Marianne Madeline Lau
Walter Schreifels @ The Bovine Sex Club
I'll admit it: I'm still a little shell-shocked after seeing Walter Schreifels perform last night. Whether via straight-edge pioneers Gorilla Biscuits, the metallic muscle of Quicksand, the grungy indie of Rival Schools or the 60s pop of Walking Concert, Schreifels has been informing my musical tastes ever since I've cared about music. Credibility be damned; he's one of my favourite musicians of all time.
So, 12 hours after the fact, I still have that feeling that you get when you're in love or on the crest of a rollercoaster. You know it. That feeling where your heart plummets into your gut. That one.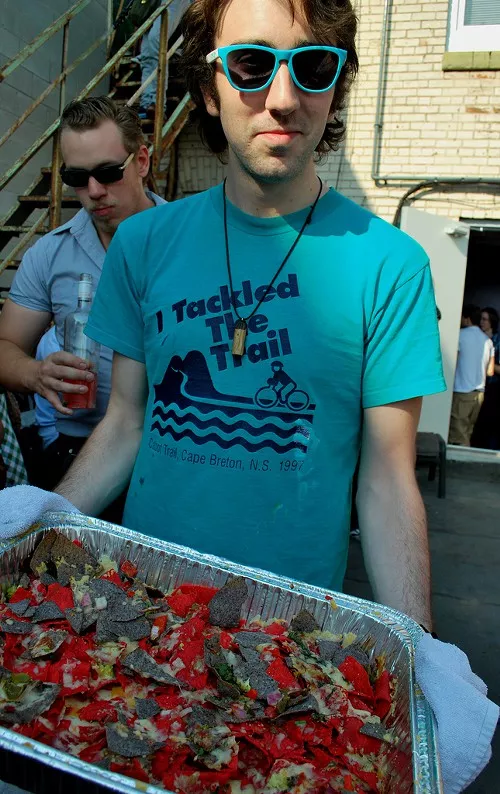 Marianne Madeline Lau
The nacho dude, aka the biggest man on campus
Nachos, The Balconies and Dinosaur Bones
But rewind. Our day begins at Hollerado's Nacho House, hosted on the rooftop of Audio Blood Media's headquarters — really, it's someone's apartment. Upon entering, we're immediately greeted by the smell of roasting tortilla chips and giant, delicious trays of nachos distributed by a dude in an aqua-marine tee. We snack down hard. Partially due to my Catholic upbringing, and partially due to my King's journalism training, I feel guilty for accepting the free food. But the nachos? They were delicious.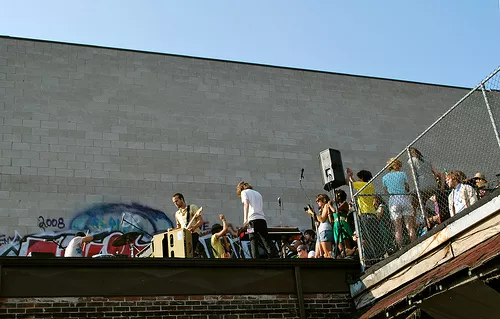 Marianne Madeline Lau
The Balconies @ Audio Blood HQ
Marianne Madeline Lau
Dinosaur Bones @ Audio Blood HQ
I never liked them in the past, but Toronto guitar-pop act The Balconies perform admirably. Powerful singer Jacquie Neville carries the group, and their bubbling basslines fit the cheap-booze-in-the-sun vibe perfectly. Dinosaur Bones follow, and to be quite honest, their brand of pensive indie-rock is drowned out in conversation and good vibes. We depart with Hollerado's "Americanrama" at our backs, and bless them: they've brought snacking back to rock n' roll.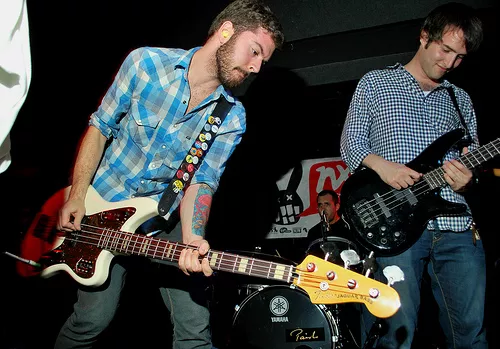 Marianne Madeline Lau
Neon Windbreaker @ The Garrison
Marianne Madeline Lau
Neon Windbreaker @ The Garrison
Neon Windbreaker
We headed to the Garrison next to catch the mostly-instrumental, definitely experimental and largely improvisational post-everything act Neon Windbreaker. Led by We Are Busy Bodies honcho Eric Warner, the group also featured members of DD/MM/YYYY and the Sour Keys. Most of whom hadn't performed (much less rehearsed) together prior to that afternoon.
"I'm going for a Mark Mullane (of North of America) vibe," Warner explains to me, of his vocals. "Like, 'dance to the rhythm of telephone liiiiiines!"
Warner made good on his squealy promise. More impressively, however, was the band's ability to perform cohesively despite their inexperience playing together. Yes, the time signature changes were sloppy, but that was to be expected. The sludgy doom-rock riffage, start-stop rhythms and their ability to perform at the mercy of a stop-watch wasn't. And they made a five-minute jam to Michael Jackson's "Beat It" sound damn good, to boot.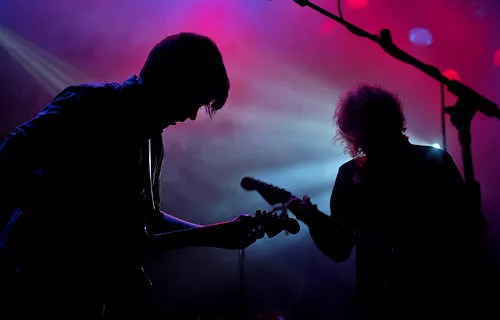 Marianne Madeline Lau
Besnard Lakes @ Mod Club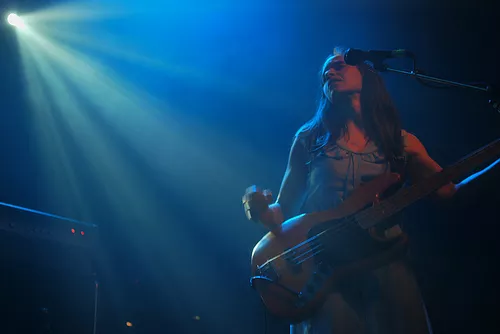 Marianne Madeline Lau
Besnard Lakes @ Mod Club
The Besnard Lakes
There's this scene in Training Day that, as far as I can tell, is the perfect recreation of being high. The sound's a little dulled, faces are blurry and halos surround every streetlight. And as we walk into the Mod Club to catch the tail end of the Besnard Lakes' set, it was Training Day all over again.
We walked into "Disaster" — the opening track from …Are the Dark Horse — while the Montreal quintet blasted floodlight flashes through a dry ice haze so thick that it put Toronto smog to shame (my friend Renata, sitting across from me as we speak, described them as "epileptic seizure strobe lights").
And while there's plenty of editorial space given to Jace Lasek's falsetto and the group's swirling psychedelic punch, seeing them live, one thing becomes evident: bassist Olga Goreas is the heart of the group. Beyond the haunting vocals, it's her churning grooves that carry the Lakes' live performance — it's a innard-tingling low end clearly recalling the work of Kim Gordon.
A fest-goer beside me called Goreas "too cool for school." We're inclined to agree.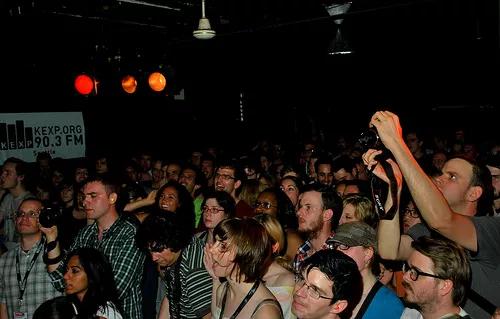 Marianne Madeline Lau
Elliott Brood @ The Horseshoe
Marianne Madeline Lau
Elliott Brood @ The Horseshoe
Elliott Brood
Next, it was off too the Legendary Horseshoe Tavern, a womb-like venue that's been home to generations of Toronto roots-types. Here, we weave our way through a shoulder-to-shoulder crowd to see local country rabblerousers Elliott Brood.
Having cut their teeth at the nearby Dakota Tavern, the trio was clearly playing to their home crowd. The full house sang along to most every word — from opener "Without Again" to closer "Write it All Down For You" — save, perhaps, for the one new song they unveiled. Working their way though most of the Polaris-nominated Mountain Meadows, the band built their performance around Casey Laforet's filthy-sounding distorted acoustic guitar and the Braun-Y-Aur stomp formula of footstomps and handclaps.
The walls were sweating — a surefire indicator a successful performance. And yes, singer Mark Sasso still sounds like a serpentine Blake Schwarzenbach.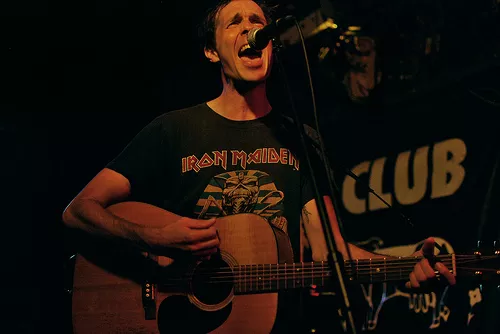 Marianne Madeline Lau
Walter Schreifels @ The Bovine Sex Club
Walter Schreifels
The last time I saw Walter Schreifels, he was performing as the Gorilla Biscuits' short-shorted guitarist at a Montreal reunion show. Today, he's armed with his stool and acoustic guitar at the tiny Bovine Sex Club — a late addition to the festival, but, if you're to believe me, one of its best.
It's gotta be hard to be Walt. The posi-dudes want to hear Gorilla Biscuits. The metalheads want Quicksand. Indie-snobs want to hear Rival Schools.
But over the course of two hours, he accommodated just about everyone. He played an airtight Smiths-Sick Of It All medley. A folk cover of Agnostic Front's "Society Suckers." A surprisingly tender rendition of Rival Schools' "Good Things." Heck, he even played a little-known Walking Concert song for an insistent showgoer (not to mention my requests of the unreleased "Bicycle Song" — the most adorable song on this side of Belle and Sebastian — and Gorilla Biscuits' "Things We Say").
He ingratiated himself to the city by performing an off-the-cuff song about exploring Toronto, written earlier that day. He played metal songs on acoustic guitar. He played folk songs with the conviction of Youth of Today. And he pulled it off with such charm and virtuosity that you'd forget that he'd ever fronted a hardcore band.
Which is why Walter Schreifels is one of the most underrated, and versatile, songwriters of our generation. And why, at 4 AM after a full 12 hours of music, my ticker's swimming somewhere around my guts. Call it a man-crush, call it a bro-ner; I'm calling Walter Schreifels one of the best performances of the week.