"I'm over music."
Those are the words of Renata Axler, a card-carrying member of Neon Windbreaker, who's joined myself and Marianne Madeline Lau, our gutsy photographer, for most of our NXNE journey. Yes, we're coming off a 12-hour, 12+ drink day, but with the aid of a few electrolyte beverages and espresso shots, we're back in business. Mercy.
Marianne Madeline Lau
Neutral Uke Hotel @ The Painted Lady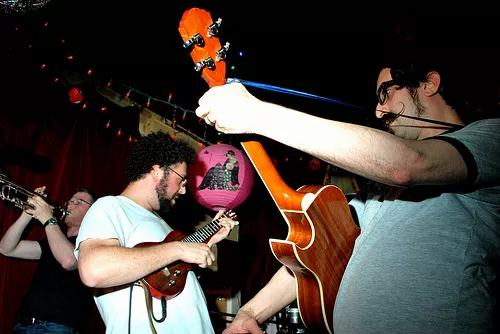 Marianne Madeline Lau
Neutral Uke Hotel @ The Painted Lady
Neutral Uke Hotel
To their credit, New York's Neutral Uke Hotel make a strong, strong case for cover bands. Yes, they're exactly what you'd expect. And I know what you're thinking: why did I start my night out on something I could've seen on Youtube?
And I'm not sure if I can answer you. But there were a few things I learned during the course of their set at Ossington street's Painted Lady, which was more or less In The Aeroplane Over the Sea performed with ukulele, melodica and trumpet.
1. It's completely impressive to see vocalist Shawn Fogel perform a spot-on Jeff Mangum impersonation;
2. It's completely bizarre to see anyone but Mangum sing "semen stains the mountaintops" with complete conviction;
3. I, along with just about everyone else, know every single lyric to Aeroplane;
4. That, in particular, gives Neutral Uke Hotel one of the densest crowds and most memorable singalongs of the entire fest;
5. This is a stark reminder that this is the closest I'm ever getting to see Neutral Milk Hotel play live. This makes me depressed.
And there's a bar named Communist Daughter right around the corner from where Neutral Uke perform. But that would've been too perfect.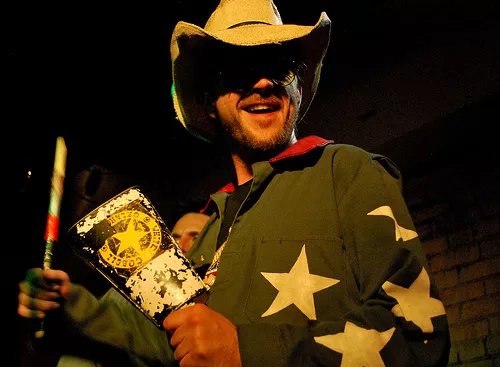 Marianne Madeline Lau
White Cowbell Oklahoma @ El Mocambo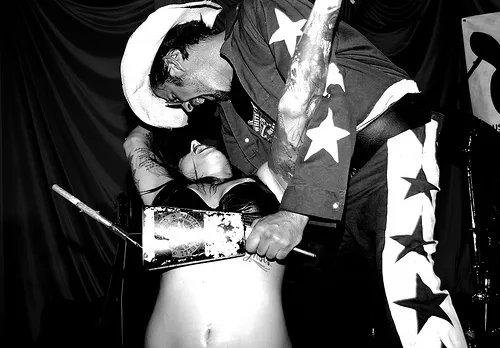 Marianne Madeline Lau
White Cowbell Oklahoma @ El Mocambo
White Cowbell Oklahoma
As mentioned during day one's post, Toronto's a town that loves Ian Blurton, and accordingly, it also loves its trash rock. So, it's surprising to me that White Cowbell are actually from Oklahoma; growing up here, they, and the Hellacopters, played here with such regularity that you'd think they were locals.
We catch them at the El Mocambo, a venue made famous for an Elvis Costello performance here years back. Here, we run into Charlotte D'Arcy, my favourite Halifax barista from Barrington street's Just Us! (sorry Smiling Goat dude). She's in town to see Pavement play on Toronto's Olympic Island show.
They've got their southern-friend garbage rock going on, replete with cowboy hats, pyrotechnics and stripper-dancers. I can't tell if it's the best performance or the worst performance I've ever seen. The cowbell, surprisingly, is low in the mix, so I decide, instead, to catch up with Charlotte, whom I discover is Halifax's de-facto treasure for dick-shaped latte art. I estimate that I've seen nearly 20 hours of music at this point, so conversation, at this point, is welcome.
Rich Aucoin
I'll go ahead and say it: Rich Aucoin's music — which is some supremely infectious synth-pop — can get lost in his live show. He has the frenetic call-and-response crowd participation, his undeniable charisma and an ever-active projector, but still, sometimes it can be difficult to remember that Aucoin's actually a musician.
Either way, his performance is completely built for unsuspecting audiences. The crowd pushes up to the stage, and, in case you were wondering if anyone outside a Wardroom crowd would engage with Aucoin, here's the answer: yes. He didn't have the swarm of white-clad cronies like he had when he opened for LCD Soundsystem at last year's Pop Explosion, but you know what? He didn't need it.
(Correction: Rich Aucoin played with Girl Talk at last year's Pop Explosion)
They danced. And danced some more. And with Toronto's notoriously fickle audiences, that's a massive credit to Aucoin and team.
Marianne Madeline Lau
Golden Dogs @ El Mocambo
The Golden Dogs
Two things: first, as far as I can tell, people in Toronto don't really like the Golden Dogs even if they're native of the Big Smoke. Not that I'm the city's best representative, but I'd never really warmed up to them, really, until I moved to Halifax. Second, I'm going to voice the extremely unpopular opinion that Everything in Three Parts, their debut, completely trumps the much-lauded Big Eye Little Eye.
But that's of little consequence, as they mostly unveiled new songs from Coat of Arms their forthcoming LP due this summer. Boasting a far more guitar-heavy sound than expected — Big Eye's strongest tracks were synth-driven — the Dogs were clearly amped to perform new material, which loaded up on the girth and toned down on the Red Bull. The audience, for their part, lapped it up, although, as was expected, the strongest reaction came from their performance of "Yeah" — and that's probably because it was on Vampire Diaries.
It was a completely airtight performance, and we can't fault them for performing mostly newer material. Still, "Bird Song" or "Faster" — the quintessential Toronto commuters' song — would've been nice.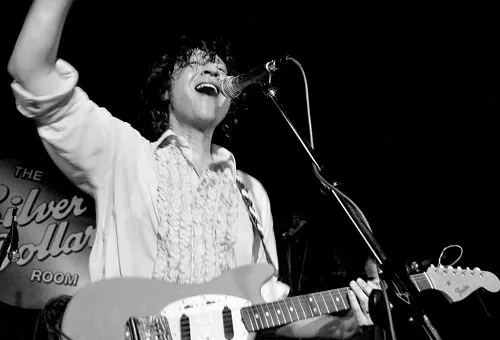 Marianne Madeline Lau
By Divine Right @ Silver Dollar
Marianne Madeline Lau
By Divine Right @ Silver Dollar
By Divine Right
After nearly two decades — and two veritable Cancon classics in Bless This Mess and Sweet Confusion — By Divine Right the muscular pysch-pop brainchild of Thornhill's Jose Contreras has settled into being consistent. Good, yes, great, sometimes, but certainly consistent. We head over to the Silver Dollar - home of the Jay Reatard haymaker - to catch them.
And, like their previous two performances in Halifax, they performed songs largely from 2009's Mutant Message. But the real surprise? They performed "Five Dollars" as their encore. The Seahorse is pissed.
We make it to The Silver Dollar to catch the end of the set from Calgary's Women, but the posse's more interested in raiding the band's veggie platter and collection of bottled water. This isn't a good sign, so we decide to get some Chinese and call it a night. As for me, I'd be over music, except that Iggy's playing the following day. And you can't be over that.