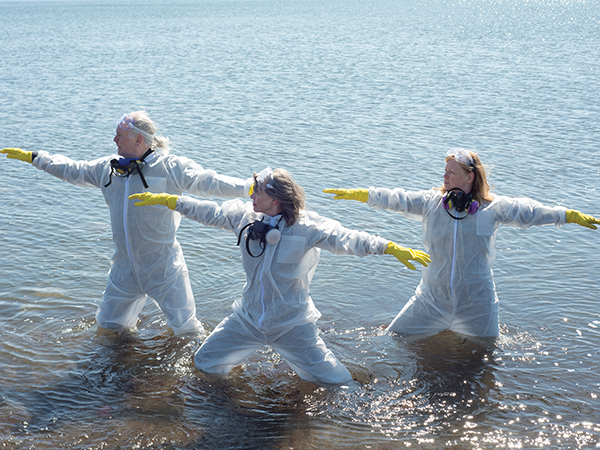 The Children
May 9-19
The Bus Stop Theatre, 2203 Gottingen Street
$5-$50, tickethalifax.com
---
Martha Irving first laid eyes on Laura Vingoe-Cram when she was just a baby in a bassinet.
Fast-forward some three decades: The two women are in conversation, listening carefully to each other, sitting in a top-floor rehearsal studio at Neptune Theatre. Vingoe-Cram is now director, and Irving (a longtime artistic collaborator of her mother, Mary Vingoe) is one of three stalwart Nova Scotia actors cast in an environmental thriller.
The Children, by breakout British playwright Lucy Kirkwood, examines the moral, personal and generational complexities thrust forward by climate change through the lens of three retired nuclear engineers who reunite, unexpectedly, after a crisis.
Vingoe-Cram was fascinated by Kirkwood's narrative because the writer chose to root it in the voices of sexegenarians. "It's a 32-year-old woman writing about three 60-year-olds and doing it with such nuance and characterization," Vingoe-Cram says. "I think it's so easy for young people"—she pauses to clarify—"my generation to make older people into cliches...these are real, flawed individuals."
There's a meta element here, one that brings to the forefront the distance between generations when handling a subject as thorny and threatening as the ruination of the planet. This is a debate Vingoe-Cram has been in the middle of. One side goes like this: "Baby boomers: They ruined the planet for us, they have a lot to answer for." While the other answers: "Millennials are lazy! They won't get work." By then, Vingoe-Cram says, it devolves into a hasty back and forth, mimicking a parent-child relationship.
This conversation unfolds as a clunky dance, one that achieves nothing, and leaves both participants huffing and defensive. That's what makes Kirkwood's show so germane, explains Vingoe-Cram, because it provokes a deeper intergenerational discussion, all the while managing to protect the integrity of its characters. "You don't think about Lucy's age when you're reading it," Irving concurs. "It's a phenomenal script."
Even rarer perhaps than a writer taking on voices decades older is just that: A show whose entire cast is in its 60s. "It's really rare to have a play that has three mature people in it," Irving says, "and that's one of the things that I think is brilliant about the casting...because the characters have such long history."
So too, do the actors. Irving will perform alongside two longtime friends and colleagues, Mauralea Austin and Lee J. Campbell. Irving and Austin in part co-founded LunaSea Theatre in 2006 because of the lack of opportunities—the richness and depth and fulfillment of the best parts seemed to vanish for women past a certain age. So LunaSea made its own luck. This makes sense for actors and artists who came to the table with decades of experience.
But for a young company, this is an uncommon move. Most theatre upstarts find each other in university, or in community, bonding over works in which they've found shared passion. In this typical nascent structure, a small group rotates the roles of acting and directing, choosing plays that reflect their own lives, sometimes using their own words.
But in this case, Keep Good (Theatre) Company (which Vingoe-Cram founded with Gillian Clark and Karen Gross in 2013) is taking a different passage: The young company instead set out to tell Kirkwood's story, and in doing so cast three of the most prominent mature stage actors in Atlantic Canada.
"I just think this is fascinating that this young really interesting vibrant company is choosing to go in this direction for this show," says Irving. "But it feels so right!" chimes in Vingoe-Cram.
It's a small moment of kinship, revealed unwittingly, but it's one the director hopes to inspire in the audience. "How do we move forward?" she asks, on the subject of climate crisis, and particularly, in dialogue, among all ages. "How do we bridge the gap between generations on this very pertinent topic?"