If you're looking to find cheap smokes, ask the people lighting up outside Halifax's libraries and high schools.
A new study released yesterday by the lobbyists at the Atlantic Convenience Store Association claims illegal cigarettes account for more than 22 percent of butts collected at "popular smoking areas" near four Nova Scotian high schools.

The "butt study," conducted by a Montreal research firm on behalf of the ACSA, apparently analyzed almost 4,000 cigarette ends found at 27 Nova Scotian locations in May.

The Halifax Backpackers Hostel took top prize with 42 percent of the butts around the north end business coming back as no-name. Other off-brand hotspots include "Halifax Public Libraries" (34 percent), Sackville High School (32 percent) and the Nova Scotia Department of Education (15.9 percent). In fact, government properties account for about a third of the 27 properties listed below.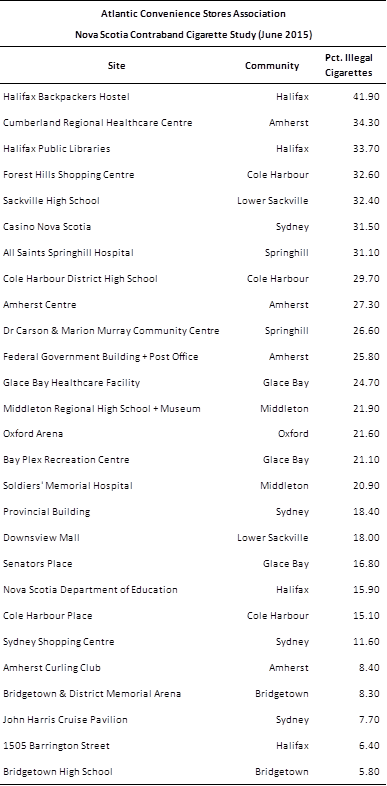 Illegal cigarettes are often colloquially and incorrectly dubbed "native" or "indian" cigarettes. All First Nations are able to manufacture cigarettes with the approval of Health Canada. They can then sell those items to other indigenous Canadians for their personal use, provided the retailer has a business permit and complies with First Nations business licensing laws.

It's illegal in Canada to possess tobacco products not properly stamped or taxed. Fines and penalties for the buying or selling of those products range from $10,000 to $1,000,000 and imprisonment of up to five years. The federal government has been cracking down on anyone found transporting or owning untaxed tobacco through recent legislation like Bill C-10—an effort which has been met with opposition from First Nations group who say the new laws violate their constitutional rights to produce and sell tobacco.
According to yesterday's release, a plastic bag of 200 illegal cigarettes costs between $30 to $35. A quick poll around the office found that price a bit steep. Twenty bucks to $25 is more likely, depending on who you know. A carton of 200 legal cigarettes costs about $115.
Aside from differences in packaging and price, illegal cigarettes tend to be a harsher smoke. "Not smooth," "taste like shit" and "you'll choke on the first puff" are some criticisms from The Coast's smoking clique.
This is the sixth study of its kind the ACSA has put its money and time into since 2010. President Mike Hammoud states in yesterday's release his organization is calling on the provincial government to enact tougher legislation for the "unacceptably high" amount of illegal cigarettes in Nova Scotia. That would decrease profits to criminals and increase profits for the sellers of legal tobacco products, like Hammoud's members' businesses.

Cigarettes are highly addictive and dangerously unhealthy—being as poisonous to the human body as most processed meats.