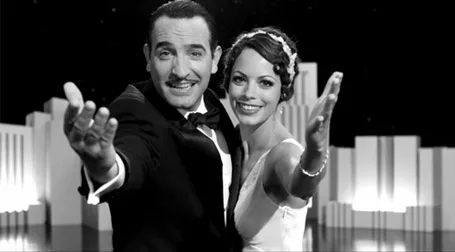 As we make the transition from film to digital,
The Artist
---a black and white silent film---takes us back to 1927 as movies were transitioning to the "talkies". George Valentin (Jean Dujardin), a gesticulating star of the silent era, scoffs at the addition of sound, just as he gives Peppy Miller (Bérénice Bejo) her big break; as old stars fade, new ones shine. Sure, the move to the talkies has been tackled before in films like
Singin' in the Rain
and
The Artist
nods to this, pulling music from the classic musical. But, French writer and director Michel Hazanavicius's take is new, if only because his use of old techniques stands out in the 21st century. Dujardin's and Bejo's screen chemistry is exciting and undeniable---we believe the pair could have been from decades past. Most refreshingly, it's a beautiful, funny, yet unpretentious film showing us change doesn't herald the end.