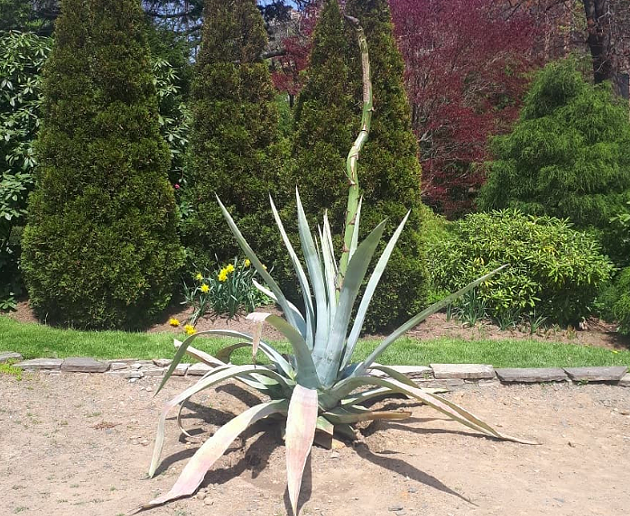 Halifax's celebrity plant is pushing up daisies.
The agave inside the Public Gardens has been killed by Nova Scotia's chilly spring weather. Like so many of us in this town, it will never blossom.
Municipal spokesperson Erin DiCarlo says gardeners haven't seen much new growth from the plant since putting it outside and some of the older leaves are now becoming discoloured.
While there was some hope warmer temperatures in coming weeks could turn things around, it appears the agave has bit the dust.
"It is unclear at present whether the flowering will take place, however, it doesn't look good at this stage," says DiCarlo. "The weather has been the biggest challenge as it's a tropical plant."
Native to Mexico and the southwestern United States, the municipality's
agave americana
had been safe and warm during past cold months in HRM's greenhouse.
After 25 years it began sprouting a large flowering stalk earlier this spring and was moved to the Public Gardens so the general public could enjoy the once-in-a-generation event of watching it bloom.
[More accurately, as CBC notes, it was just getting too big to fit in the greenhouse.]
But a cold snap quickly ended the plant's growth, putting the vegetation into what HRM's horticulturalists hoped to be a temporary stasis. No such luck.
Technically, the agave has been dying ever since it sprouted its asparagus-like stalk. Once the plant flowers, or in this case doesn't flower, it dies.
Nevertheless, many shots of tequila will be poured tonight in honour of the departed.