"Turn around and take a bow, Billy," Taylor Samson's
mom
said to the man who murdered her son.
William
Sandeson
, 24-years-old and showing no emotion, walked out of a Halifax courtroom this past Sunday after Justice Josh Arnold said he would likely be sentenced to life in prison with no parole for 25 years.
Sandeson's
first-degree murder conviction was the climax to a nine-week trial, 22 hours of jury deliberation spread across nearly three days and one of the most high-profile Nova Scotia murder cases in recent history.
And the story still isn't over. Defence lawyers leaving court didn't say whether their client is planning to appeal the trial's outcome, but the Crown is anticipating it.
There's also the unsolved mystery of what happened to Samson's body. The Dalhousie University student's mother, Linda Boutilier, continues to search for her son's remains.
"I'm going looking after this trial and I'm gonna find my son," Boutilier told reporters. "I'll find him on my own."
Sandeson
was days away from starting medical school at Dalhousie in 2015 when he killed the 22-year-old during a drug deal involving 20-pounds of marijuana.
Cheers erupted in the courtroom as the jury chairperson read out the guilty verdict.
"Thank you," someone said as they started to cry.
"Tell us where he is," Samson's step-sister yelled.
Family and friends were emotional after leaving the courtroom as they embraced and cried in each other's arms.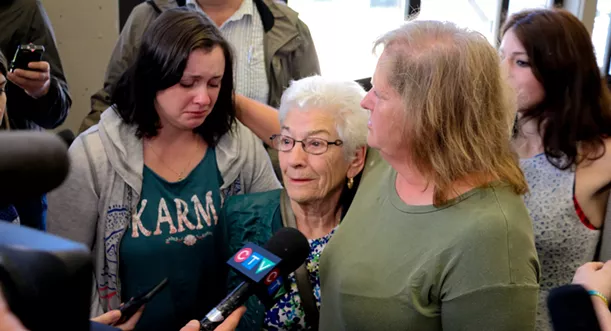 "I can actually sleep for a change," Boutilier said after the verdict.
"Thank the good Lord that the truth has come out," said Samson's grandmother, Elizabeth Samson, with tears in her eyes.
She expressed sympathy for the
Sandeson
family while speaking to the media.
"I do feel sorry for his family that they brought up a man like him," she said.
Samson's mother was less sympathetic.
"He has no feeling, no emotion," Boutilier said of
Sandeson's
reaction to the verdict. "He doesn't care who he hurts. He destroyed his own family."
Samson's father, Dean Samson, wasn't able to attend most of the trial for health reasons. However, he was able to make it for the deliberations.
"It's a horror story," he said. "My heart's ripped out."
Samson was a 22-year-old physics student at Dalhousie. Friends remember him as an entrepreneur who tutored first-year students on YouTube and loved helping other people.
"He made people better just by existing. He pushed everyone to be the best that they could be" said
Kaitlynne
Lowe, a long-time friend of Samson's. "He himself always wanted to be the best person ever."
"I'm thrilled with the verdict," said Lowe. She attended every day of the trial.
Defence lawyer Eugene Tan didn't want to comment on whether they planned to appeal or
not,
but said he had strong feelings about the decision.
"It was difficult," said Tan about the case the Crown presented.
Having an emotional connection with
Sandeson
made the trial tougher. Tan is a family friend.
"It makes the decisions a little bit harder to take," said Tan.
"Chin-up, we'll just keep moving forward," was
Sandeson's
advice to Tan that morning, according to the defence attorney.
Crown lawyer Susan MacKay said they were pleased with the verdict and happy for Samson's family.
They've asked the family to file impact statements before sentencing on July 11.
"It's important for the families of the victim to say what they want to say to the offender and to the public," said MacKay.
She praised the efforts of investigators in the case. "They did an excellent job," she said, adding that they had some "lucky breaks" throughout the case.
Samson was last seen the night of August 15,
2015
by his girlfriend while leaving his house. He was going a few doors down and told her he wouldn't be long. She never saw him again.
The Crown alleged that Samson brought 20-pounds of marijuana to sell to
Sandeson
at his Henry Street apartment. Walking down the hallway towards
Sandeson's
front door, Samson was captured on a surveillance camera set up outside the apartment. He was carrying a large black duffle bag. The jury saw Samson taking what the Crown says were his last steps.
Their theory is that
Sandeson
shot him in the back of the head or neck, and a few minutes later two witnesses from across the hall came and saw him slumped over in a chair, covered in blood. The two neighbours had heard a gunshot right before
Sandeson
knocked on their door in a panic. They came back a second time shortly after that and one testified he saw blood streaks leading towards the bathroom.
Sandeson
was running around in a panic, saying he had to clean up. Bloody money and drugs were all over the floor. One witness said he saw "pints and pints of blood." He left the apartment building and threw up.
In her closing argument to the jury, Crown lawyer Kim McOnie said they had amassed an overwhelming amount of evidence.
The Crown said
Sandeson
wanted to alleviate some debt he had accumulated on a line of credit. Through text messages acquired from his phone, they showed the jury how
Sandeson's
family was concerned about his finances. Just hours after the murder took place, said the Crown, the texts show
Sandeson
telling a friend that his student loan had been paid off.
Police found 20-pounds of marijuana in
Sandeson's
brother's basement and various bags, including a large black duffle bag, at the
Sandeson
farm in Truro. Samson's DNA was found in the black bag as well on a bullet lodged into a window frame in
Sandeson's
apartment. His DNA was also on a 9mm handgun belonging to
Sandeson
.
A verdict brings some relief said family members, but the longing to bring Samson home continues.
"There is one person sitting in this courtroom who knows where
Mr.
Samson's body is," McOnie told jurors.
Boutilier has travelled all over Nova Scotia looking for her son. She's been driven off properties in towns before, looking for any sign of Samson. Her search continues.
Sandeson
will serve 25 years, minus the two he has already served in
custody,
before he is eligible for parole.