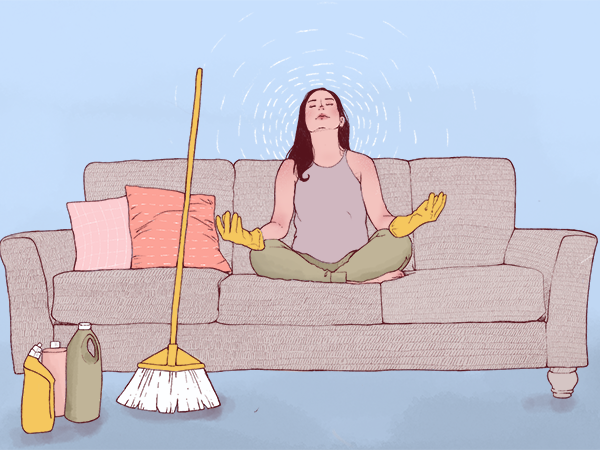 Idon't know who needs to hear this, but go clean your kitchen sink. Wash all the dishes, dry them, put them away and think of the sink itself as the last dish. Give that thing the scrubbing of its lifetime. Next—stay with me on this—dry that sink. With any old cloth, towel or rag you have. Then go to bed and wake up the next day with a powerful self-satisfaction and smugness that will rival the joy of your morning coffee.
It's called putting the sink to bed, and if you already do this, good for you! But if you don't, try it for a week and get back to me.
Sixteen months ago, after I had my second child, I was barely treading water in a tumultuous sea of toddler meltdowns, a laughable lack of sleep and a difficult C-section recovery. During my endless hours nursing while scrolling Instagram I discovered Mrs. Hinch, a cleaning fanatic and completely goofy woman from Essex with a truly infectious zeal for cleaning. The Hinch Army has since grown to over two million followers, prompting Mrs. Hinch to release a book at the beginning of April: Hinch Yourself Happy: All The Best Cleaning Tips to Shine Your Sink and Soothe Your Soul. In the vein of Marie Kondo, Mrs. Hinch touts the value of a tidy space to impart calmness. Admittedly, I've always been pretty tidy, but I was a far cry from a nightly sink cleaner. With Mrs. Hinch as an inspiration, I incorporated some of her more manageable tasks into my usual routine—like putting my sink to bed.
This tiny act became as valuable to my general serenity as a nightly shower or cup of tea. Is scrubbing a dirty sink as luxurious as treating yourself to a spa pedicure? Of course not. But for me, it was a reset, a mini act of self-care and a chance to do something nice for poor, poor Morning Steph.
Nowadays I'm what you'd call a cleaning hobbyist. I follow a few cleaning-related pages, have a neatly organized cleaning products shelf and a (more or less) weekly routine. I also feel extreme embarrassment admitting this for a number of reasons. I'm worried it somehow makes me a subpar feminist to enjoy cleaning up; I'm worried it enforces archaic and damaging gender roles in my home (although my partner cleans a great deal); I recognize that I'm physically and mentally able to clean when many are not, but maybe more than all of that—I'm worried it makes me sound incredibly uncool and boring.
After Tidying Up was released on Netflix in January, there was a massive backlash to professional organizer Marie Kondo's methods—which also took on very distinct racist and misogynistic undertones. Simply by suggesting ways for people tidy their spaces if they wanted to, Kondo uncorked a torrent of defensiveness. Our relationship to cleaning and chores is a complicated one, maybe for some of the reasons listed above, maybe from childhood trauma, arguments with partners or a laundry list (sorry) of other potential influences. But despite our varied relationships to the concept, chores remain.
Unfuck Your Habitat, which I followed early as a baby cleaning fan on Tumblr, has perhaps the most realistic, understanding and inclusive philosophy as any cleaning related site I've seen. There are no exhaustive daily/weekly/monthly chore lists. No need to make your own all-purpose cleaner from grapefruit peels and white vinegar. There's no competitive online following. There's solid encouragement in the form of little, practical reminders and suggestions of tiny things we can do for ourselves and our spaces.
One is a doable list to "unfuck tomorrow morning:" Wash the dishes in your sink, get your outfit for tomorrow together, set up coffee/tea/breakfast, make your lunch, put your keys somewhere obvious, wash your face and brush your teeth, charge your electronics, pour a little cleaner in the toilet bowl (if you don't have pets or children or sleepwalking adults), set your alarm and go to bed at a reasonable hour. Good advice, right? I suggest starting with the sink.