10
Free Comic Book Day
Saturday

Giant Robot celebrates Free Comic Book Day—and their sixth anniversary—with an equally giant cake and bins of free comics.
9
The Common Link: A Jane's Walk
Saturday
A citizen-led stroll through some of the peninsula's best patches of grass, this walk is part of the citizen-led Jane's Walks that celebrate community based city building in memory of urban theorist Jane Jacobs.
8
I Was There
Friday // Saturday // Sunday
This Mayworks Festival audiovisual installation questions urban development and the capitalist ownership of community land.
7
Halifax Crafters Society Spring Market
Saturday // Sunday
Welcome spring with open arms and some cool new crafts at this sale featuring dozens of local makers.
6
Horton Ridge Tap Takeover
Saturday
Those looking to expand their palate on Open Brewery Day might consider swinging by Battery Park. The beer bar is spending May 6 playing host to Al Stewart of Horton Ridge Malting, showing 19 beers from 19 breweries that use Stewart's malt to make their suds.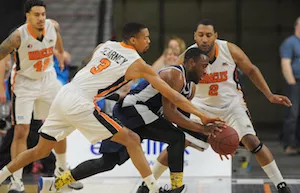 5
The 2017 Stillwell Open
Sunday
In one of the highlight events of NS Craft Beer Week, Stillwell's blind-tasting Open returns for a third year, bringing dozens of brews from all over the province with it.
4
Serena Ryder
Friday // Saturday
With an album dropping later this month, Ryder revels a new, '80s-and-glitter-dipped sound.
3
Emerge HFX
Saturday
Cunny Ross, Mikaylaa States, Rosco 300, Jody Upshaw, Kiddo and Cleo light up the marquee event for this year's fest aimed at emerging talent.
2
Halifax Hurricanes basketball playoffs
Friday // Sunday
Looking to defend their title from last year, the Hurricanes open the National Basketball League playoffs with two home games agains the Moncton Miracles.
1
Old Stock: A Refugee Love Story
Thursday // Friday // Saturday // Sunday
Ben Caplan co-stars in this based-on-a-true-story theatre production of Romanian Jews immigrating to Canada in the early twentieth century.