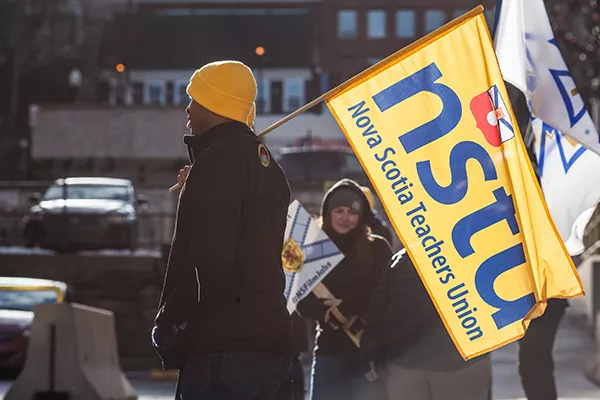 The Nova Scotia Teachers Union is backing down from its threat to strike, following the introduction Thursday of the province's new Education Reform Act.
The legislation will dissolve Nova Scotia's seven English-language school boards, and remove principals and vice-principals from the NSTU.
But those administrators will be allowed to join a new association still affiliated with the NSTU, with seniority and pay scales protected.
The province is also no longer planning to create a new college of educators to license and discipline teachers.
Those compromises appear to be enough for the NSTU to stand down—for now.
"We are well aware of the short-term impact a strike would have on families, and while the government has done enough to avert job action, they still have much more to do to improve our public education system," NSTU president
Liette
Doucet writes in a press release. "We will hold them accountable."
The detente follows
several weeks of outcry
, ever since consultant Avis Glaze released her scathing report on the province's education administration last month.
Minister Zach Churchill had promised to implement all 22 of Glaze's recommendations, but after an
emergency strike vote
by the NSTU and intense public blowback, the Liberals appear to have walked back on some of those plans.
Doucet says the NSTU is still opposed to the Education Reform Act, "which could do more harm than good." The union is also "genuinely fearful of the chaos" to come from eliminating school boards.
Those democratically elected bodies will be replaced on March 31 with a new provincial advisory council
of
education. Local school board offices and staff will remain, renamed as Regional Education Centres.
The province says eliminating the boards will save $2.3 million annually. That'll come after a one-time payout of $2.4 million, to be made to Nova Scotia's elected board members to cover the stipends they would have earned over their current term.