Ryan Cook
Musician
Andre the Giant: When I was a kid I was enamored with the idea of him and big, larger-than-life people. And I've never seen someone with [a tattoo] like that.
Arabic script: It says "In the name of Allah." I went through this brief phase when I was 20---I embraced Islam for a year. I don't regret the tattoo, though it's ironic since tattoos are outlawed in Islam. This is pretty rare.
Cartoon of a girl: It's from an herbal Indian soap called Shikakai. Women use it for their hair. The girl is on the package. The funny thing is the package also has a swastika on it, which means something different in that culture.
Truth on the inside of his lip: Now you can just see half of it, the "t" and the "h". Funny that I put it on the inside of my lip and it faded.
Black bull: I had some tribal art that's now covered by a huge black bull. It looks pretty great.
---
Devin Sherrington

Fitness trainer, 360fit
I feel like anything I put on me is important to who I am and what is important in my life. I did all of them in a five-month period. I have 13 tattoos on my arms. I have a couple of Chinese symbols, one means "strength," one means "hope" and one means "truth." I have a sun on one elbow and a moon on the other, which hurt like a bugger. I have a saying on both forearms: "Dedication is not what you're willing to do" and "Dedication is what you're willing to give up." And that's my own, I say that to clients all the time. I talk to them about what they have to give up in order to get to their goals. You can't eat McDonald's and be fit, it doesn't happen. On my left arm I have my last name, Sherrington, and then across it, like a crossword puzzle, I have my own name and both my kids' names. On the other side I have me and my kids' astrological symbols. And I have a quote from Chris McCandless, it says how important it is not to be strong, but to feel strong. And I have thorns on one wrist. Most of my tattoos are done at Old Harbour in Dartmouth, by Curtis Worth.
---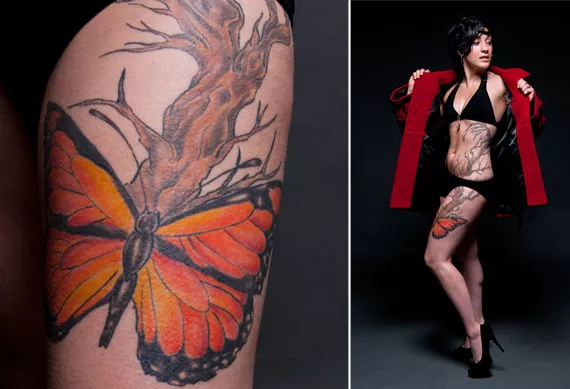 Vanessa Furlong

Musician, Three Sheet
It's something that I thought about for a long time. I had lost everything I owned in a fire. And I was reading this book about certain trees that require fire to grow, in Australia. That was pretty significant. And where my name means "butterfly," and the metamorphosis that happens with the butterfly, I thought to have a tree on me and a monarch butterfly to represent the transformation I had to go through once losing everything that I owned. I went to Mike Power at Utility. It was a good 18 hours in total, so three six-hour sessions. I know Mike well, he's good at distracting me. At the time I smoked and he was very good at letting me go out for smoke breaks.
---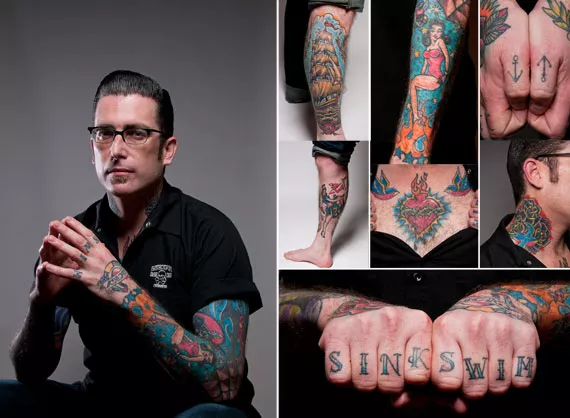 Fabian O'Brien
Musician, The Whiskey Kisses
I was 17 when I got my first tattoo. I remember getting up the nerve and money, and walked down to Merchant Marie's in Dartmouth. I got some sort of Celtic tribal thing, some piece of flash off the wall. It's kind of silly when I think about it. It's still there, weaved into everything else. I'm not a big believer in covering up tattoos. To me it's a snapshot of a time in my life. I have a piece on my left hand that is a horseshoe with a banner of "lucky" across it. Bill Baker did that. He's kind of a legend in Canada and that's a piece I was really stoked on getting. Lydia [Klenck at Utility] did a Lady Guadaloupe on my lower left leg that's a favourite of mine. Andy [Ferrier at Utility] has been doing my right leg that's a very traditional ship with topless mermaids, the Sailor Jerry style. When I watch some of those tattoo shows I find it's funny there's a very deep meaning in every speck of ink that's gone into their skin. I don't have anything like that. I like tattoos, I like what they do to your body and how they look. Granted, I have "sink" and "swim" on my knuckles, and it's a philosophy. But overall... there's no deep meaning. They're cool!