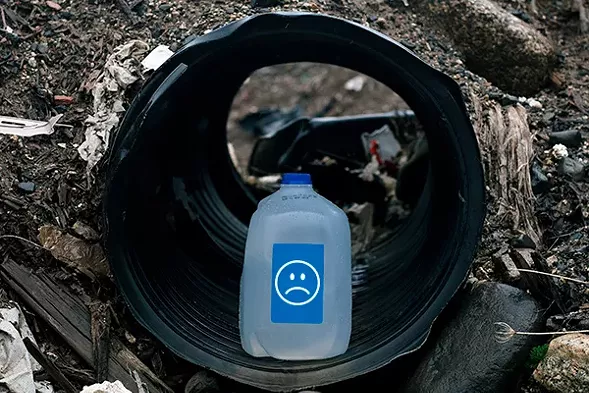 This March, Nova Scotia Supreme Court justice Timothy Gabriel rejected an appeal from two companies with the catchy names of 3012334 and 3076525 Nova Scotia Ltd—AKA RDM Recycling Ltd.
It was the third time the companies had tried, unsuccessfully, to appeal a 2016 Ministerial Order—itself a revised version of a 2010 order—to complete a $10.6-million cleanup of their decades-old mess on and around Old Sambro Road.
The companies, as ordered by the province and upheld by its highest courts, are to "mitigate the impacts of uranium, lead and other substances in groundwater that may cause an adverse effect, which are present in groundwater beneath down-gradient properties, as a result of the groundwater plume sourced from 1275 Old Sambro Road."
Sourced from 1275 Old Sambro Road—AKA, the RDM Recycling depot.
The ruling is a confirmation of what residents in Harrietsfield have long been saying: The companies and people who improperly stored 120,000 tonnes of non-recyclable materials (including carpet, asphalt and gyprock) created toxic runoff into watercourses and are responsible for the area's polluted drinking water. Levels of arsenic, uranium, lead, boron, cadmium and other heavy metals exceeding Canadian safe drinking-water standards plague at least eight nearby households and likely
many
more.
What most perplexes residents, though, is the opaqueness of government procedure and its apparent reluctance to enforce its own order.
"From 2010 to 2014 there were negotiations between the companies and" NS Environment, says Lisa Mitchell of East Coast Environmental Law,
a non-profit helping homeowners
in Harrietsfield. "The residents have never been kept apprised. Multiple requests for meetings have been denied with the minister's polite dismissal, 'We're taking care of it.'"
Even now, after its latest victory, the department is
mum
on details.
"NS Environment is reviewing the judge's decision and consulting the Public Prosecution Services to determine our next steps," Krista
Hidgon
, a government spokesperson, says in an email statement to The Coast. "We cannot provide details of potential enforcement actions as this is an active matter."
———
Marlene Brown moved into her house on Old Sambro Road with her parents in the 1970s, and she raised her boys here as well. "My neighbour, Melissa King, the first time I met her in 2010, she was pregnant and had no idea about the water," says Brown, who broke the news to King herself about the MO and water concerns.
"I was shocked to find out," King says. "And even more shocked no one involved in the sale of my home had given me any idea about this ongoing issue. My home has a deep drilled well and is one of the worst affected."
When her son was born in 2012, King feared for his long-term health. "The challenges of travelling to bathe him, to pick up water and the ongoing cost of water treatment and maintenance became too much for me."
She filed for bankruptcy and left her home in early 2015.
Although she doesn't live there anymore, King still owns the property, but lives a considerable distance away and is unable to maintain it.
Any time
she has been unable to mow the lawn, HRM has taken care of it and issued her a bill for $700, followed by letters threatening jail time when she was unable to pay.
"When I contacted my councillor, Stephen Adams...he did nothing to support me," 
she says.
Neighbours who worked with the department of the Environment as interveners in the court cases, providing information and evidence, still can't get a meeting with staff or the minister.
In 2009, RDM asked NSE if it could reduce the frequency of its water monitoring. The residents were not consulted. The ministerial order that followed indicates the request was never granted, but without
enforcement
the residents have been left in the dark, with no new water quality tests since late 2015.
"After being on a monitoring program for 12 years, we don't know what's in our water anymore," says Brown.
———


The history of the site's legal troubles goes back to
1997,
when Roy Brown and Michael Lawrence bought an old auto salvage yard through their 3012334 NS company in order to operate a construction and debris recycling facility. The business was named RDM Recycling Ltd.
In 2002, Halifax councillor Stephen Adams, a personal friend of Lawrence, went against the advice of the city's Watershed Advisory Board, Community Monitoring Committee and city staff by moving that the property
be
re-zoned for its new recycling purpose. Staff had concerns about disposing of industrial materials in a residential area, but Adams countered that the debris would be "inert and non-toxic."
The municipality continued to issue licenses for the site until 2012, despite the company's lack of compliance with Nova Scotia's ministerial order.
"On the first day that Marlene Brown and I attended court," King says, "prior to having legal representation from EcoJustic and ECELAW, Stephen Adams also attended court with an owner of RDM. They arrived together and sat together through the proceedings."
As a result,
Harrietsfield's
residents have become
skeptical
. They don't trust the department of the Environment, city hall or, particularly, their own HRM councillor.
Adams has, for his part, maintained the uranium poisoning at Old Sambro Road predates RDM. Though he did not return phone calls or emails regarding this story, the councillor had previously sent Hansard transcripts to The Coast from the early 1980s where the matter was discussed in the Legislature. Indeed, the water in Harrietsfield has long been tainted, thanks to uranium mining in the area that has since been banned. But NSE studies show clear spikes in uranium levels with the addition of toxic, non-recyclable wastes and the runoff of leachates since RDM began operations. The science is concrete.
Despite the name, RDM often dealt in the disposal of non-recyclable materials. Environment officials had to approve the site and its 2003 tests showed concerning levels of heavy metals.
Officials found the company had been "stockpiling material in anticipation of an approval to dispose of construction and demolition debris." According to court documents, "This was not approved and a further appeal was denied."
Instead, NSE approved a containment system, to be built by a geotechnical engineer in 2004, for 120,000 tonnes of construction and demolition waste. Subsequent NSE studies and court documents show the containment system never worked properly, and that "there is no available evidence to suggest that a geotechnical engineer was ever involved."
One reason for the numerous court appearances is that the personnel involved changed somewhat. In 2005, Lawrence and Brown leased the site to 3076525 Nova Scotia Limited, a fairly new company run by Kurt Jacobs and Brian Dubblestyne. Both Jacobs and Dubblestyne are also directors at Mirror Nova Scotia, which runs the Otter Lake landfill. Jacobs is also president of Dexter Construction.
The new owners of RDM
claims
that it shouldn't be held responsible for its predecessor's faulty containment system, but court documents have shown there were several other sources of leachate on the site.
Melanie Haggart, a hydrogeologist hired by NSE, made clear in a report that the high levels of uranium are a direct result of the companies' activities, stating that a "calcium-alkalinity-uranium relationship has been previously noted as showing a cause-effect relationship between high calcium and alkalinity in groundwater," which caused naturally-occurring uranium to move into the water.
The March decision by justice Gabriel notes that "none of the persons named on
the 2010
Order...fully complied;" there was no investigation into leachate issues and no adequate planning of surface water management, environmental impact management or remedial action. Justice Gabriel also writes that "the minister did engage in some meaningful consultation with" the companies, but says nothing of NSE's communication with the affected residents.
———


The residents are left feeling frustrated and powerless. In 2003, 18 homes were put on a provincial well-water monitoring program with four annual reports, to which Marlene Brown was apparently the only person who paid attention.
"I noticed fluctuations," she says. "I approached my neighbours and we put all the data on a spreadsheet and proved there
was in fact
an issue. The Nova Scotia Environment hydrologist and other staff met with us in 2010."
The initial Ministerial Order soon followed.
"We were told not to drink the water," says Brown.
An environmental health consultant, engaged by NSE, warned about increased risks of cancer due to arsenic and developmental issues in children due to lead. This warning jibed with anecdotal observations by locals of high rates of tumours and cancers within the small community's residents and their pets.
They'd already been using their water, untreated for years. In fact, the companies had been on NSE's radar for nearly a decade. As the 2016 Ministerial Order states, "Offsite impact to domestic wells is occurring from the property at 1275 Old Sambro Road, Harrietsfield [and is] suspected of initially becoming present...prior to 2003; and continuing to increase through 2010 or later."
With an election looming, the province recently approved installing individual water treatment systems in eight of the affected homes. The municipality will cover any ongoing maintenance costs for the systems.
"This is a Band-Aid solution," says Melissa King, "and all of the other impacted homes are still not receiving support from
government
, including the 10 additional homes also listed on the original Ministerial Order."
Residents have asked that the 120,000 tonnes of toxic debris be removed from the RDM site; for safe drinking to be "brought to our community until city water is piped to Harrietsfield Williamswood;" and for NSE to test all the wells in that radius, which includes a school.
So far, they've been denied.
To raise awareness of their plight, residents are holding a 500-metre walk this Sunday, May 7 at
1pm
, starting at the Harrietsfield Williamswood Community Centre.
As it turns out, their walk is happening at the start of a month-long provincial election campaign. Having received no assistance from their governments since the MO was issued seven long years ago, Brown, King and their neighbours are trying to put more eyes on their situation in the hopes that the pressure finally spurs the province to act.
———
Chris Benjamin is a freelance journalist, editor and author of three award-winning books.