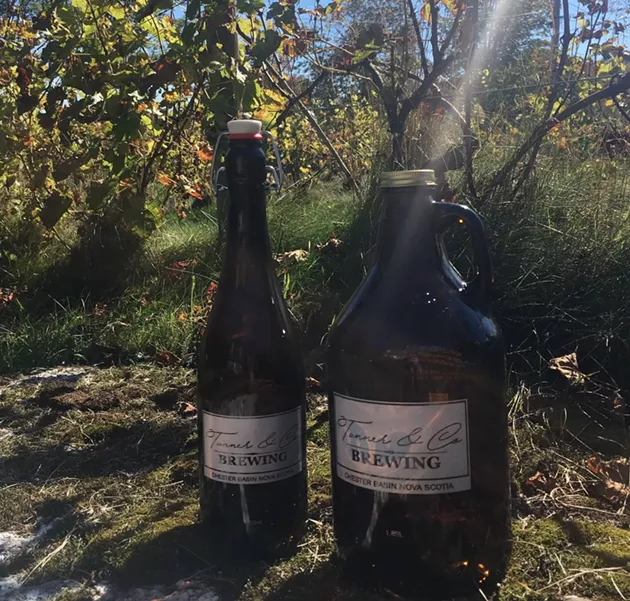 Last weekend Chester Basin had some drinks. Tanner & Co. Brewing—the latest addition to Nova Scotia's craft beer scene—officially launched its little operation (50 Angus Hiltz Road) with Dan Tanner, a veteran in the food and drink world, at the helm. Tanner, who's worked at White Point Beach Resort as a food and beverage manager and sommelier for the last 17 years, was turned onto the beer world thanks to his interest in wine.
"It was part of my goal for what I wanted to do for my career—I jumped into the CAPS [Canadian Association of Professional Sommeliers] training, which lead to planting some vines to see how that goes," says Tanner, who also studied culinary arts at NSCC. "The original intent was that we were gonna do a little winery. We learned its not all that fun to have a vineyard, it's very frustrating with our climates, trying to be organized and keep everything alive, and you only get one shot a year. Brewing went more with my culinary arts side, you can mess with it and play with the recipe."
After five-plus years of serious experimentation with brewing at home, he decided—thanks to lots of compliments about his beer— to go for it and launch Tanner & Co. Brewing. Starting with a focus on German beers, Tanner nailed down a rye beer and steam beer, but has expanded his list of creations to include a pale ale, a Belgian blonde and a lemon lavender saison. He says he's happy to keep Tanner & Co. very micro for now, focusing first on getting kegs into restaurants and bars and filling growlers at the farmers' market.
"For now I'm happy staying small, I love my day job," says Tanner. "It's a hobby slash dream slash it fits well with what I do already. We'll see."