It is pure chaos down at the boardwalk today. History enthusiasts, people out for a stroll, tourists and locals, alike are all down enjoying the sunshine and taking in the tall-ships.
The Tall Ships Festival runs from Thursday to Monday at noon, with tours of each of the ships. Be sure to check out the Unicorn (made from German U-boats from WW2 in 1947), the Gazela (from Newfoundland 1901, carried the fisherman over) and the Pride of Baltimore II (replica of 1812 ship).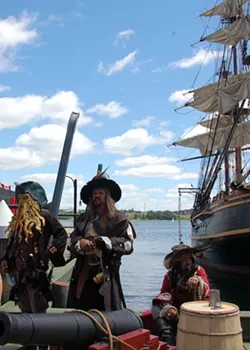 Businesses like Telus have set up stands and the boardwalk is overflowing with crowds. Buskers are playing Maritime folk music and one man has even set up a puppet show. Pirates of the Caribbean fans will be psyched to see Jack Sparrow's there to pose with.
"There's a children's pavilion set up in Dartmouth that is just wonderful," says Juie Moore, a second-time Tall Ships volunteer. Moore says she's not much interested in the history of the festival, but she's happy to help out.
Some people come from out of town to see the festival. "There's a lot more going down at the waterfront and this year it's very well laid out, the traffic of people is being better managed," says Darrell Roddick, from Pictou County.
And some locals just want to see what all the kerfuffle is about. "I was just going for a walk," says Shashi Bhat, Haligonian.
Most people say the food is their favorite part. Ice cream's melting down the fingers of small children and the line-up for The Battered Fish blocks the whole walkway.
"We just enjoy the activity," says Jocelyn Wentzel, who is visiting from the South Shore.