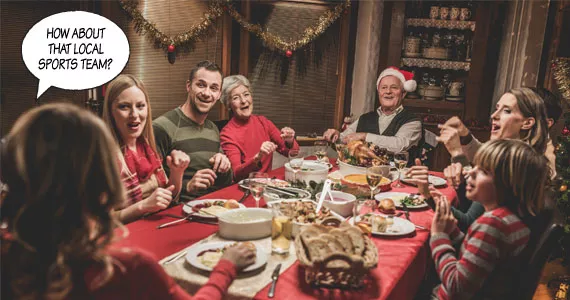 It feels like we're all in the same boat here. The family gets together for the holidays and immediately chucks all social cues and conventions out of the window. Prodding personal questions? Snide passive-aggressive remarks? Blunt non-sequiturs? Rude comments about your weight/parenting abilities/marital/occupational status? Any discussion whatsoever of the oppressive garbage fire that is today's political climate? Meanwhile you're over here trying to eat your stuffing in relative (lol) peace, free from rage-heartburn.
Though it's hard to take anyone seriously when they're wearing one of those tissue paper crowns, here are a few talking points to help you in your mission to deflect.
THE WEATHER
"Boy, it was cold today! I do like snow over the holidays though. Last year it didn't snow until the middle of January though, did it?" OH NO this is veering into climate change territory! Abort immediately! (PS Do not say the word "abort" at the table.)
THE FOOD
"This is amazing. Look at this spread! You've outdone yourself. Everything tastes so good." Feel free to go full What About Bob? dinner scene here.
LITERALLY ANYONE'S NECKLACE
"That necklace is gorgeous [insert literally anyone's name here]! Where did you get it? It's so cute. There's a place in town that sells necklaces kind of like that, I should pick one up."
THE VIDEO OF THE ANIMAL DOING THE CUTE THING
"Have you guys watched that video of the dog trying to eat the picture of the bone painted on his water bowl?" Bonus: Pull out your phone, show the video, kill five minutes, easy.
DISMANTLING WHITE PATRIARCHY
Alright, fuck it. You've lasted this long, you've held your tongue, everyone's as tipsy as they're going to get, let's burn imperialist white supremacist capitalist patriarchy to the ground.