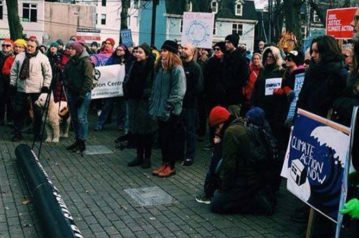 Welcome to The Coast's United Nations Climate Change Conference coverage. Over the next week, several Nova Scotians visiting Paris for the annual summit will be blogging for us on the ground. Our first entry is from the Ecology Action Centre's Catherine Abreu (a version of this blog ran on the EAC's website yesterday).

Forty-thousand people from 200 countries are here in Paris for the United Nations climate summit. This week, 150 heads of state will gather under one roof to deliver their countries' pledges on climate change.

People from across the world have been coming together every year to talk about climate change for a long time. The progress that's been made in that time is somewhat underwhelming. Yet the meetings continue, every one an exhausting crush of urgency and hope.

So why has everyone kept at it? Why are we here?

If anthropology taught me anything, it's that biological determinism—the idea that we humans are hardwired to behave in certain ways—is a load of crap. Used to justify every manner of human failing, the concept is a dangerous cop-out and, most damningly, utterly boring.
Since the advent of environmentalism, countless soliloquies have been penned on the greedy and reckless nature of humanity, destined to consume and pollute our planet. Nothing to be done about it beyond hope we might one day extinguish ourselves.
But let's be real - human beings are awesome. Like every other species on Earth, we've got something totally remarkable going on. We've got culture.
Humans use culture to adapt to our surroundings. Whereas most other species adapt genetically, over generations, we are capable of adapting more quickly as our environment shifts.
Cultural evolution makes us nimble and to it we owe our resounding success—a single human lifetime could never hope to achieve the cumulative technological advancement allowed for by a culture that absorbs and passes on the contributions of countless individuals, for instance.

We are at the precipice of the most alarming environmental change our species has yet encountered, and we are the cause of it. We need to adapt if we are going to survive, and we have to be quick.
We are in serious need of some cultural evolution.
And that's what we're doing here in Paris. We are participating in the exchange of ideas and information that is essential to cultural evolution. This includes the transfer of knowledge and learnings between cultures. As one of my fav Canadian scientists, Joseph Henrich, says, "It's better to be social than to be smart."
And we are doing it at a scale that is necessitated by the extent of the challenge and the nature of the globalized, interconnected civilization we live in. This weekend, roughly 600,000 citizens flooded the streets and mountains and lagoons of their homes, united in their cry for justice.
In Paris, recent attacks resulted in the ban of mass mobilizations. Guess what? Parisians and visitors found creative and heartbreakingly tender ways to express themselves.
Some 25,000 people gathered in Ottawa to declare that within 35 years, a world run on 100 percent renewables is 100 percent possible. Hundreds were out in Halifax, as well.

We are coming together everywhere we can to share stories and innovate and urge each other to greatness. Let us hope we rise to the occasion.