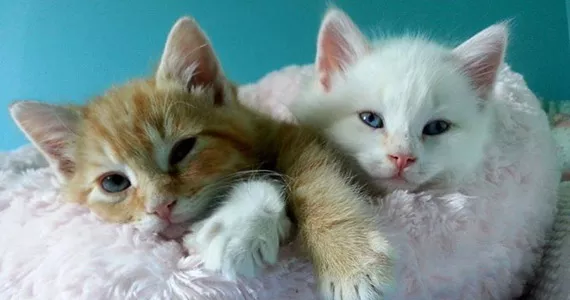 Believe it or not, Jennifer Trevors wasn't always a cat lover. It was only after being converted by two roommates and their kitties in 2010 that she even considered having one of her own. The next year she got her first cat, which had been taken in from a bitter cold snap. Five weeks later the new addition gave birth to two kittens, and the rest is whiskery history.
When Trevors and her trio of cats were craving the company of kittens again in 2012, she opted to start fostering from the Halifax Cat Rescue Society and since then has taken in upwards of 40 cats and kittens.
"If you get a cat when they are a kitten, you could be caring for them for up to 20 years. Twenty years of vet bills, food and supplies. With fostering, you won't have that lifetime obligation," she says of why people should consider being a foster parent. "I've also found that fostering has improved the personalities of my own cats. They no longer have any issues anytime a new cat is introduced and they are exceptionally more friendly with people as well."
Not only does she care for upwards of seven cats at once, Trevors chronicles her challenges and lessons via her blog, an honest and adorable account of life as a foster mom to both abandoned and feral cats.
"A feral cat has had little to no first- hand experience with humans and more often than not is just fearful. If you simply want a cat to cuddle and play with, a feral cat may not be the best pick, but if you're willing to take in an animal to help give them a better chance at a quality life, a feral cat may be a good option," she says. "My semi-feral cat Bobbi may not the kind of cat that I can cuddle with but she's healthy, has a home where she will be cared for and has food in her belly.
"The times when she opens up and lets me in by either letting me scratch her chin or brush her fur means the world to me because I know there is a true sense of trust between us."
Follow Jennifer's latest adventures at kittentales.ca.
---
Kitten Tales' tips for socializing rescues
1 "When the cat is first brought to its new home, leave them in a room alone for the first few days. I do this with all of my foster cats and kittens. It allows them to come out on their own time and allows them to get used to the sounds and smells of the home without being overwhelmed all at once."
2 "Give them spaces to hide, either under beds, covered cat condos or other similar areas so that they can feel safe while being able to watch what is going on in the home."
3 "Be as little as possible. I lay on the floor a lot to help make them feel at ease and not to overwhelm them by my size." Trevors also suggests using soft voices, moving slowly and avoiding staring at your new cat—they see that as a threat.
4 "Keep the radio on in order for them to get used to background sound. A silent house makes any sudden noise more obvious." She adds that the best way to get a cat used to you and your voice is chatting with them. (Bring on the baby talk.)
5 "With rather shy cats or ones that are not comfortable with being held at the beginning, I often avoid being too hands-on with them at the beginning. Instead, I start to introduce touch during two things that they really enjoy—eating and playing. They eventually associate being touched with things that they enjoy." Remember, only progress at the speed that the cat is willing to endure. Don't rush it.