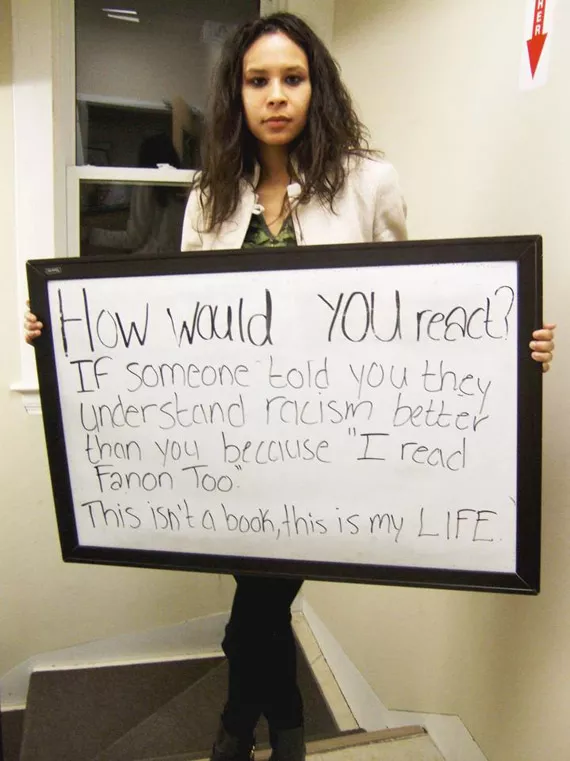 Imagine: You're born and raised in Clayton Park by East Indian parents. By your own smarts, you get into university on a full scholarship. On your first day, your professor mispronounces your name and then your classmate asks where you're from. You answer, "Clayton Park." She leans in: "But where are you really from?"
For some visible minorities, these inhospitable challenges to identity happen every day. Earlier this month, Dalhousie students Ntombi Nkiwane and Catherine Cane began approaching peers to photo-chronicle such racial micro-aggressions that students of colour experience on campus. Inspired by a similar movement at Harvard University, quickly copied by other institutions, for How Would You React? (howouldyoureact.tumblr.com), Nkiwane and Cane ask students to write down the most ignorant but most common and prevalent remarks made to them based on their physical appearances, race or language. The results reveal a variety of cultural prejudices.
"The How Would You React? campaign highlights that there is still a big problem at Dalhousie, in Nova Scotia and Canada," says Nkiwane. "There are political, economic and socio-economic factors that still systematically disenfranchise people of colour. This needs to stop. Students at Dalhousie and in Nova Scotia are too quiet. We need to stop being apathetic and combine our efforts to create change."
As contributions to the project continue to roll in, Nkiwane is more surprised that some of the comments are made by professors in classes. "But faculty, too, live in a society that perpetuates racism on all levels," she says. "I was not surprised with what I heard from students because, as a black woman, I face the bare-brunt of intersectional oppression and marginalization. We need to mobilize."
With no official response from Dalhousie, Nkiwane and Cane plan to petition administrators to enhance cultural sensitivity on campus, from increased enrolment of students of colour to cultural sensitivity workshops and "less Westernized" events. Over 40,000 Nova Scotian residents identify as visible minorities and some are still asked where they're from. "Just because someone is not white does not mean they are not Canadian. Much attention needs to be shed on racism, in and out of the classroom."