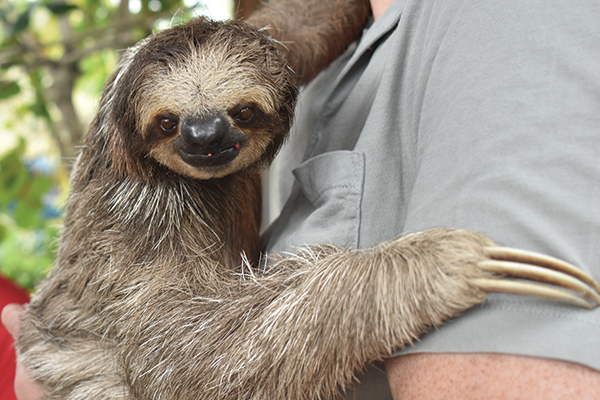 This summer, there's a diva taking residency on the Halifax waterfront. Her rider of demands includes steamed sweet potatoes, leisurely naps free from interruption and making sure she's never separated from her special blanket. Though fans often mill about, waiting for photos, her handlers only allow them access when she feels like it—which, depending on the day, might mean they don't even get to glimpse her face (oh, and they never, ever get to touch her).
This is the life of Lilo, the two-toed sloth who's the undisputed star of the Discovery Centre's latest exhibit, Survival of the Slowest.
Born in captivity before being adopted by Little Ray's Reptile Zoo—which hosts this exhibit in the museum's lower level (1215 Lower Water Street), complete with a selection of snakes and reptiles—Lilo's life centres around a mix of sleeping (sloths sleep around 15 hours a day) and acting as an educational tool. "One of the big aspects of our company is conservation. Having kids care about animals is the first step in having them want to do something to not only help animals but help the planet," Dylan Abrams, one of Lilo's handlers (and an animal educator with Little Ray's) explains. "At a very base level, we just want people to get that spark—to go do research on their own, find out more, and maybe just help out."
This rainy June afternoon, Lilo has decided she's open to admirers, climbing out of her enclosure to hang lazily from Abrams' torso. Her head rests on his chest, munching salad as he speaks. Soon, the next show of the day will begin—with Abrams asking the crowd (mostly children but also a few adults) why they think some animals are slower than others, and talking about how slow animals use less energy than their peers.
But, until then, Lilo's ready for another nap.