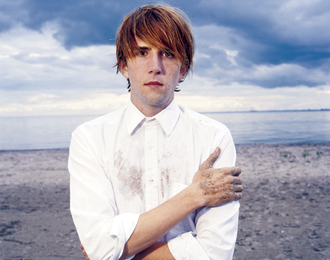 Owen Pallett stands by the water without a coat to get a feel for Halifax in October. Which is when he'll be here to play with the Symphony.
Here are some key shows from Symphony Nova Scotia's freshly launched 2009-10 season. The blessing/curse with knowing a whole year in advance is you find yourself saying things like, "Jenn Grant's symphony show was dope even though there was a blizzard" and then someone is like "That's NEXT February, Bill and Ted."
The Celebrity Series includes Mendelssohn's A Midsummer Night's Dreamon the 200th anniversary of the composer's birth; Anton Kuertion Mozart's Piano Concerto K. 271 and Schubert's Death and the Maiden.
Our favourite series, the Pops, continues the recent-but-lovely tradition of showcasing local talent. This year's line-up includes David Myles, Jenn Grant (brilliant!) and Mir. The Finnish ensemble Rajaton throws down ABBA songs (with special guest vocalist Meryl Steep? Only in bizarro Symphony land) and Final Fantasy, aptly we think, fronts SNS for a Halifax Pop Explosion show, another recent-but-lovely tradition.
Other shows will be performed by Drum, Suzanne Lemieux, John McDermott and Janina Fialkowska.
Get all the deets—and the tix—here.