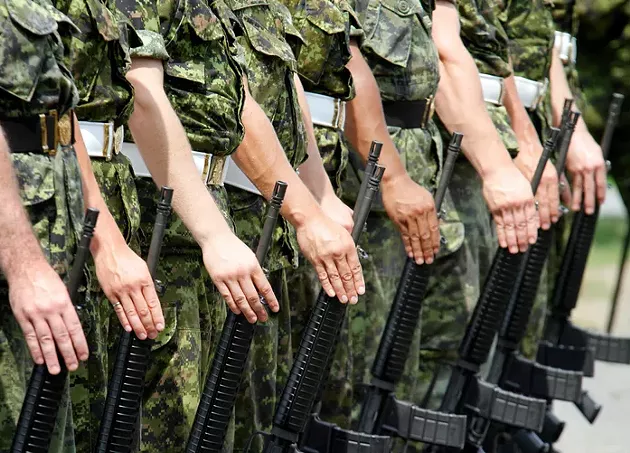 It's not surprising, but it is disturbing.
Statistics Canada has released some damning numbers in relation to sexual misconduct in the Canadian Armed Forces, and a former naval reservist says the military doesn't do enough to help victims.
"What they're doing is to say: If you report, that's the only way, pretty much, you can fix this problem," says Marie-Claude Gagnon, who started It's Just 700. The organization helps members of the CAF—past and present—who are dealing with military sexual trauma.
"Putting the onus on the victim is a lot, especially when the victims are 18 or 19 years old."
In total, 43,000 people replied to the survey. This includes both members of the regular force and the primary reserve.
While Gagnon doesn't think there was any ill-intent, she noticed the survey left out groups such as regular force members on initial occupational training.
"That's pretty much the first two years of your military experience," says Gagnon.
At first, she wondered if this would downplay StatCan's results, but the survey still revealed a significant number of issues.
For example, 79 percent of regular force members said they saw, heard or personally experienced inappropriate sexualized behaviour during the past year.
Over a quarter of women (27.3 percent) reported having been sexually assaulted at least once since joining the military, and 3.8 percent of men reported the same. Women are more likely to be sexually assaulted by a supervisor while men are more likely to be assaulted by a peer.
The report noted that sexual misconduct isn't unique to any one environment or workplace, but women in male-dominated fields are at bigger risk of experiencing it.
"When you have one or two females in an operation with 100 men, what have you been doing to make sure that this person will be safe?" says Gagnon. "There's no safety measure taken."
The StatCan figures come about a year and a half after the release of the external review into Sexual Misconduct and Sexual Harassment in the Canadian Armed Forces, which drew from the experiences of more than 700 CAF members. This is where It's Just 700 takes its name.
"When the report came out, there was a lot of victim-blaming," says Gagnon. "One of the arguments that was often coming was it was 'just 700' people that contributed in the survey."
Gagnon had tried to push existing veteran groups to create a branch for sexual trauma survivors, but she had no success. So she took matters into her own hands.
"You should be entitled to have some kind of support, even if you chose not to report," she says.
Multiple members of It's Just 700 collectively filed a notice of action against the attorney general of Canada on Monday. The group is claiming sexual assault and battery, sexual harassment, and misfeasance of public office in the CAF.