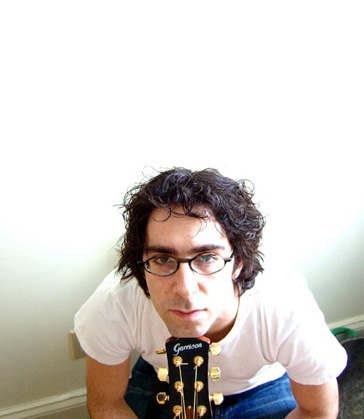 Kev Corbett, host of Sing for Your Supper.
"I felt a little bit bad because there were one or two people who showed up who were like, 'Where do I sign up?'" says Kev Corbett, host of the new songwriters' circle at The Carleton. "I had to play bad cop there."
Sing for Your Supper is *not* an open mic—more like an invite mic—but its goals are similar, in that emerging musicians get to play their songs for a dedicated audience. But it's more organized than the traditional anything-goes, sign-up sheet line-up of the open mic (the title refers to the meal the participants receive from the bar after the show). The concept was dreamed up by Mike Campbell, who owns the spot with Mike Rhodes.
"The Carleton had made its reputation as a supper club kind of place but the stage wasn't being used Saturday afternoons," says Corbett. "They also want it to be a place where they showcase up-and-comers. My job, more or less, is to be the go-between—to be the eyes and ears in terms of finding writers who have some track record and some things to throw down on the table but may not necessarily be on his radar just yet. It accomplishes his multiple goals of his getting something going on Saturday afternoons, it's fun, it's casual."
Corbett's goal is to find people who have made some inroads locally and who can, in his words, "work a room," as opposed to people stepping out of their bedrooms for the first time. "My sense is he's not looking for armchair songwriters, not sitting up there apologizing: 'I just finished this one today, I hope I don't screw it up.' He's looking for the kids who are going for it."
For the inaugural edition, Corbett lined up Laura Merrimen, Scott Trivers and Mary Stewart (Norma MacDonald had to drop out due to illness). "The crowd was great. All of us were really happy with it," says Corbett. "The restaurant was mostly full by the end of it. I think the word's gone around about the shut-up rule, so everybody just sat there and listened." (For the uninitiated: "If someone decides to yak through a show, we'll throw him/her/it out—plain and simple," warns the website.)
Sing for Your Supper is a free event from 2pm to 5pm on Saturdays at The Carleton (1685 Argyle). This week's guests are Jenny MacDonald, Mike Aube and Telfer's Tommy Green Jr.