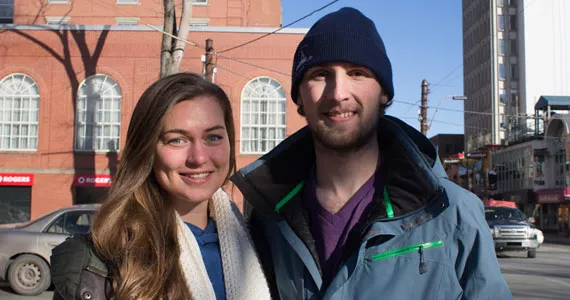 Ray sits on the front steps to the Discovery Centre holding out a cup. It's -14 and Barrington Street is quiet. He makes little eye contact with strangers who walk by him as he holds himself tightly together, mumbling a few words. Ray usually finds himself sitting here until midnight. His wife Connie, who he has been married to for eight years, sits on the opposite side of the street in front of the Starbucks in the same position, a cup held out.
Brittany Harman, half of the organizing team of the monthly event Supper With Strangers, heads down Spring Garden toward Barrington with a group of three. She shares stories about previous events and offers direction to other groups as they pass.
"Keep an eye out for anyone on Barrington," says 20-year-old Harman to the other event-goers as she enthusiastically reaches the intersection. "It can be a little harder to find folks on down here at this time."
When we reach Ray at the Discovery Centre, his eyes look directly up at each one of us as we stand around him. "Have you eaten all day?" Harman says to him. "Would you like to grab something to eat? It will be on us."
"Really?" Ray asks.
"Yes, really!" replies Harman.
"Can my wife join us?" says Ray as he stands up.
"Yes, definitely!" she says.
"Oh man! I haven't eaten all day."
Last fall, Harman, a Dalhousie student, and Matt Scott, a Saint Mary's student, launched the first Supper With Strangers event. Four people attended. Last month's Supper attracted 26 attendees who were university and high school students, as well as a few community members. The upcoming dinner has nearly 170 people interested in the Facebook event.
Aimed to establish relationships with the homeless and hungry of Halifax, Harman and Scott aim to remove the "hierarchy" present when providing those in need with some help through a dinner where everyone orders something to eat, and together they engage in conversation about anything.
"It is not a hierarchy where one is superior to the other," says Scott. "Like we are both equals, we are eating together."
The volunteers pay for the meals, which the organizers can have reimbursed, and break out into small groups so that people do not feel overwhelmed once they're approached.
"They usually want to go to McDonald's or Subway," says Scott. "But we offer to take them anywhere." The same night that they met Ray and Connie, a Dalhousie graduate with a cardboard sign that read "Smile for change" suggested the group dine at Smoke's Poutinerie.
"'It's hard to go hungry in Halifax because people are generous and want to feed you,'" Harman says one person told her at a previous event. "But the expenses of living are what really gets a lot of them."
"We really wanted to make a change in people, not just through physical needs, but like the ones that can't really be seen," says Scott, who feels that their faith is a big motivator in what they do. "I don't think the population of Halifax knows how many [homeless people] there are, how much stress is on them and how much they need that stress to be relieved."
The pair says Supper With Strangers is all about changing the way we interact with people.
"Like five bucks doesn't really do it," says Harman. "But as you build relationships with them, this really provides the opportunity to understand what they actually do need."
---
Supper With Strangers
February 27, Public Gardens entrance,
Spring Garden Road and South Park Street