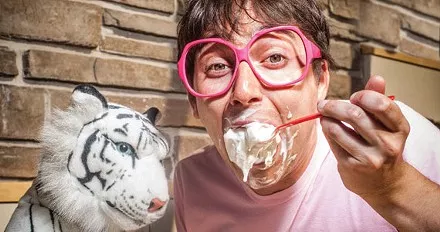 There may be no crying in baseball, but you can find a hell of a lot in comedy. For folks who make it their business to make people laugh, comedians can have a lot of pathos and sadness bubbling just below the surface. When that raw emotion spills over on stage, the results can be awkward, uncomfortable, and sometimes transcendent. If you start a comedy show to work out some tough emotions, like those that follow in the wake of a lost job and a divorce, the results could be painful, or, in the case of Bill Wood's Sunday Night Comedy, they could be pure comic gold.
'"It's not always about the laughs with me. I like all emotions and I think they deserve a place, even at a comedy show," says Wood of his now defunct comedy night, which he is reviving this Tuesday to coincide with the return of Merv Hartlen. Now based in Toronto, Hartlen is also no stranger to comedy underpinned by raw, and at times painful emotion. "They don't have Mini Sips here and it's soul crushing'' is how he answers queries about life in Toronto—I know he means it. He's excited to return to his roots, in a place where he has the freedom to try something new and strange "I like when things get weird."
Contributing to the weirdness will be Cheryl Hann, Andrew Vaughan and Steve Mackie, a comic who Wood insists "would be famous already if he lived in New York" along with Patrick Burgomaster, their "resident Cave-Man on keys," Expect some surprises, the occasional flying Mini Sip, and a ton of laughs.
Return of Merv Hartlen and Sunday Comedy (on a Tuesday)
When: Tuesday, July 15 at 8pm
Where: The Company 2202 Gottingen Street
Cost: $5