A day in the festival life of Treevenge director, Jason Eisener—excerpted and edited from glenjm.wordpress.com.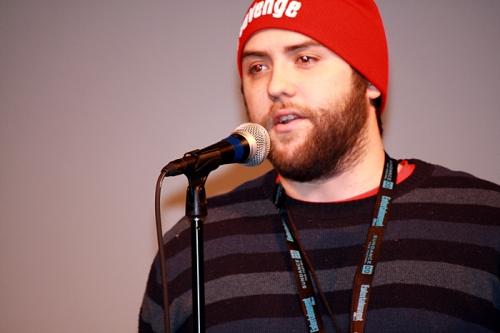 January 20, 2009
We picked up our badges, got our tickets, then I had to get on a bus to go to the directors' lunch. It was a cool coincidence that I sat by the director of Dead Snow, Tommy Wirkola. We hung out for the whole lunch and we sat with Glenn Ficarra who wrote http://www.imdb.com/title/tt0307987/ and has a film in the fest he directed, I Love You Philip Morris. He was a great guy and we had a great conversation about talking animal films. He also wrote Cats & Dogs and is just as big of a fan of the movie Babe: Pig in The City as I am. Robert Redford came out and gave a great speech.
I got off the bus and had to rush over to Main Street for an interview with E. I met up with Glen Matthews, "actor from Treevenge," and Henry Townsend "SFX on Treevenge" and my mom…they just ran into Guillermo del Toro, director of the Hell Boy films, Blade 2, Pan's Labyrinth, and he is now slated to direct The Hobbit. Henry and Glen, I guess, froze up, but Nora Eisener went right up to him with no shame and they spoke for a little bit and got a picture with him. I guess he was really nice and was stoked about Treevenge.
On my way into the interview, Wesley Snipes walked by. As he passed I told him that Undisputed was one of my favorite movies. He was taken aback by that and thought that was crazy, hahaha. I don't think any one has every told him that before, haha, but it's true, I friggin' love that film.
After the interview we had a meeting with Steven Saltzman, who is an entertainment lawyer and works with Niv Fichman, our producer for Hobo with a Shotgun…Then we met up with Greg Smith (Everwood). He took us out for pizza and showed us around the main drag and brought us to his friend Chris Masterson's (Malcolm in the Middle) bar.
Greg came with us to the screening of Treevenge and Dead Snow, along with our crew—-John Davies, Henry Townsend, Zander Rosborough, Adam Burke, Jon Eisener, Nora Eisener, Jack Eisener. We were all just standing there and someone noticed that Adam MCA (Beastie Boys) was standing behind us. Rob Cotterill and I introduced ourselves, he said he was excited to see the films and we hooked him up with a Treevenge hat.
We did a couple interviews before the screening and then we had to introduce the film. I wasn't as nervous as I thought I would be, intro'ing at the Thrillema has got me prepared to get up in front of big audiences. They played Treevenge and it looked fucking awesome. The sound was loud and any one who knows me, and that I get really stressed out about how the projection works out, would be glad to know that I didn't have to say anything to the projectionist, it was perfect! I guess they really have their shit together at Sundance.
The crowd went nuts, people told us afterwards that it didn't feel like a film screening, but more like a rock concert. Dead Snow played and it rocked the house. The last 40 minutes of that movie goes balls to the walls. I knew the film was going to be fun, but I didn't think it was going to be as crazy as it was. Loved it.
After the screening, Adam MCA walked up to us and told us how much he loved Treevenge. He asked some questions about the making of it, shook our hand. That was a geek out moment for us. Then we saw Drew McWeeny, writer of the John Carpenter's Master of Horror episodes "Pro Life" and "Cigarette Burns," chilling with him was Scott Wienberg, who writes for Cinematical and hosts a Fantastic Feud unlike any other man. We hung out for a while and talked films...Scott wrote a review for Treevenge yesterday which was awesome of him to do...
Second day we got up at 9:30am, so we had about two hours sleep. Rob and I had lunch with our agent Jason Burns and talked about future plans, we met him for the first time in person at the screening, but we were quickly swifted away to take pictures, so having time to sit down with him was great.
Then we hit up the Telefilm party, met with some of the other filmmakers from Canada. Hooked up with Walter Forsyth who's a friend from Halifax. Then around 1am we decided that we should go home and get ready for today. So i had a good night sleep and we are at last going to get a chance to go see some flicks. Today i think we're hitting up the Tyson documentary, and The Carter, which is a doc on Little Wayne that a lot of people are talking about around here.
So yeah that's about it so far i'm probably leaving out a lot of stuff, there are a lot of other famous people we're seeing around here, but we're not going paparazzi on them. Ill fill you guys in more as the week goes on.
Peace, Jason
P.S. People down here think Zander Rosborough (sound designer of Treevenge) is John Stamos. Girls were singing him the Full House theme song, amazing!
For more Sundance updates visit thecoast.ca and glenjm.wordpress.com.