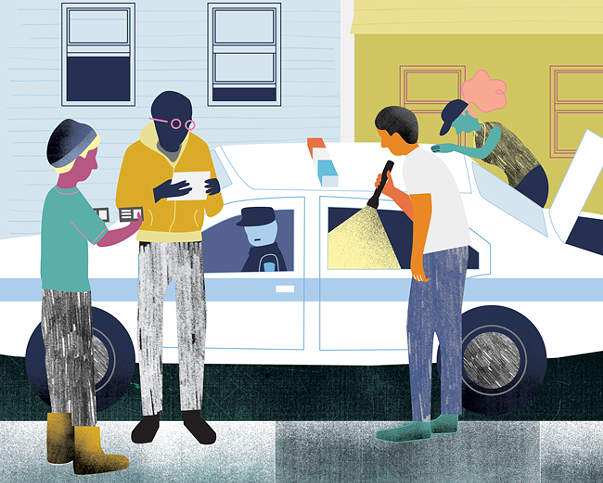 Do you trust the police? The Board of Police Commissioners would like to know.
"You have to be open," says BPC chair and deputy mayor Steve Craig. "You have to hear what's being said and take that all in, whether you like what's being said or not."
The Halifax police department's civilian overseers are quietly but radically overhauling their relationship with the force, asserting their weight after years of passive irrelevance. It's a departure from the "feeling of drift" and lack of focus described in a
scathing external governance review
conducted by former commissioners and presented to the board late last year.
The board now says it will revive its stated mission: To act as a conduit between police and the community they serve. But Halifax faces a delicate negotiation. A city with a progressive police chief and an unusually amicable history between police and citizens, it's not perfect, but it doesn't compare to the longstanding enmity in, say, Toronto or New York.
The trick will be if the board can reassert itself without damaging what goodwill and community initiatives the force already shows—reinventing a relationship between the public and police in a uniquely Halifax way, without getting sucked into the politics of other cities.
This week in an update to last year's disastrous
Drug Exhibit Audit
, Halifax Regional Police revealed that nearly 3,000 drug exhibits, including $26,000 in cash, are
still unaccounted for
from its evidence vaults.
There's an explanation for that, we learned last year after an internal report was made public. Shoddy paperwork and decades without strict policy control
means
the vast majority of all those missing items were most likely destroyed without the proper paperwork. Less likely, police have maintained, is widespread evidence theft by officers. But of course, the lack of documentation makes that impossible to conclusively prove.
Police have an explanation for something else, too. Halifax cops are three times more likely to stop and check Black people than white residents, according to statistics
analyzed
by the force in response to a
CBC investigation
. African Nova Scotians accounted for over 11 percent of the individuals "street-checked," despite being only 3.6 percent of the municipality's population. In 2015,
The Coast reported
that Halifax police issued proportionally twice as many tickets and 30 percent more summary charges for Black individuals as white over a four-year period.
Halifax police street checks are different than the random stops
conducted by Toronto cops
. The latter involve physically confronting a member of the public and asking for ID. The former, according to HRP, can often involve no interaction at all other than spotting someone in public who's "known to police" and recording that for future reference.
What's unknown, and still being studied, is whether that widespread documentation of the comings and goings of young Black men in HRM has had any measurable impact on crime levels.
Combine those high-profile news stories, along with two separate waves of
shooting deaths last year
, with a growing public unrest nationwide for police accountability and that's the atmosphere in which the board is sorting through its identity crisis.
The external governance review presented to the board last fall, voluntarily compiled by former commissioners Mike Moreash and Fred
Honsburger
, concluded that the city's only civic authority on police policy was often ignored and viewed as a "distant third party" compared to
regional
council or the CAO's office. Board members passively accepted that status quo, reads the report.
Not anymore. The public is increasingly paying attention to its police department, and now so is the Board of Police Commissioners.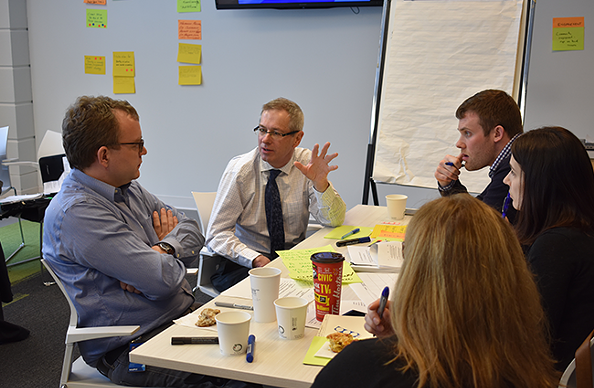 In a meeting room in Alderney Gate last week, the board of commissioners gathered with top brass from Halifax Regional Police and the RCMP to roll up their sleeves and devise an action plan.
The group—a collection of councillors, civilian appointees, legal staff and police employees—sat around a semi-circle of tables in business casual, trying to figure out what should be the commission's goals over the next two years.
It was exactly the kind of facilitated corporate sausage-making you're probably imagining. Ideas were scribbled down anonymously on large neon Post-It notes and stuck to the wall, then re-arranged into similar categories. After grouping the objectives together, board members were given stickers to place on their most important priorities:
"Clearly define the role of the police 
commission."
"Undertake public consultation sessions."
"Board developed policy and direction."
"Answer the public's concern on street checks."
Near as anyone seemed to be able to recall, it was the first time a police commission work-plan meeting like this had taken place in over a decade. Maybe the first since before amalgamation in '96.
Consequently, there was a lot to discuss—some of it likely to be easy to put into action, and some a little trickier.
"The first policy we need, is a policy on policy," said councillor Waye Mason. That's coming. The municipality's legal services department is
already reviewing the board's governance
to offer up more clarity on its rules and responsibilities. A report is expected back to the commission this spring.
The commissioners also want to develop a more thorough literacy for themselves when it comes to police operations and issues, which will help them ask better questions of police and respond with more detailed answers to the public.
Greater transparency and accountability is also on the table. The work group discussed broadcasting meetings online and on TV, and providing a spot for public participation. The commissioners also suggested they have a presence at police town halls, and revamp the
BPC's website
to be easier to reach out to the board when a member of the public has a particular problem.
Another big change: More consistent reporting on operational issues, like regular updates on both the effort to track down missing evidence and the continual analysis of street check data (both of which took place at this past Monday's board meeting).
Financial information from the police department will also be presented throughout the year—instead of just during budget season—and included in new annual reports from the board of commissioners. Plus, new policies are earmarked for development to clarify the board's roles, ethics, conflict and meeting procedure.
It's an extensive shopping list, all of which seemed to be welcomed by everyone at the Dartmouth meeting, despite the shift in the balance of power it represents institutionally.
"If we were to go away and do" all that, said councillor Tony Mancini, "I bet we'd have residents say 'Oh, we have a police commission now.'"
"When did that happen?" asked Craig, 
rhetorically.
Deputy chief Bill Moore joined in, joking about putting photos of the commissioners on bus ads. Craig offered his own copy suggestion: "Have been missing for years. Where are they now?"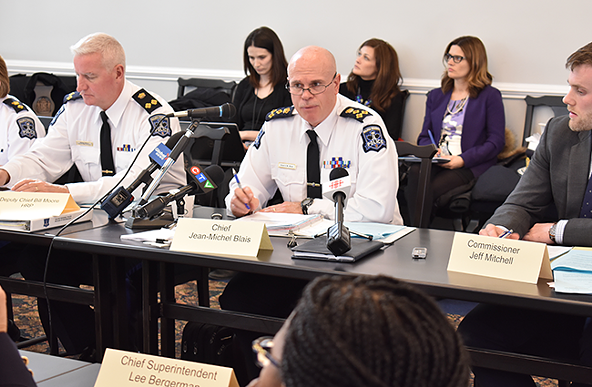 Jean-Michel Blais has thick skin. One has to, being the chief of police. It also helps in his off-hours, when he referees hockey.
"I've got these coaches on the bench that are like, 'Holy shit, it's the
friggin'
chief of police. I can't mouth off at him,'" he says. "
Yes
you can, for frack's sake!"
Blais and the department he runs are both no strangers to external criticisms. But the chief says his support for the board of commissioners' current introspective growth is largely self-motivated by HRP's own desire to do better. It's an internal affair.
"At times you have to look back and say, 'OK, what are you going to do and how are you going to do it?'" says Blais. "How do we develop trust with the community?"
The police department is doing its own work on that front. After a two-year absence, and in partnership with the board and RCMP, it's reinstating
community surveys
to provide a benchmark for the public's satisfaction with its police force.
Details are still being finalized—including annual costs and a contracted operator—but the board of commissioners stressed that the quarterly surveys should use carefully-worded questions, designed by the board and HRP's research coordinator Chris Giacomantonio, to effectively narrow down just what HRM residents define as "satisfactory" policing.
"'How good a job are the police doing?' You don't get great data out of that," Giacomantonio told the board earlier this week. Better info, he says, comes from questions that aren't quite so leading; questions that draw on personal experiences.
Do police treat you fairly?
Do they treat you with respect?
"'Holy shit, it's the friggin' chief of police. I can't mouth off at him.' Yes you can, for frack's sake!"

tweet this
One of the difficulties, Blais believes, is that the "visceral reactions" to stories of
racially motivated police shootings
and
beatings
happening elsewhere in North America are transposed onto Halifax in the minds of the public.
"What beatings? What are you talking about?" says Blais. "Young Black men getting beat? I'm not aware of that
stuff,
because it doesn't happen here."
Statistics vary from year to year, but on average
there appear to be about 25 Canadians
killed annually through interactions with police. When compared to the horror show in the US, Canada doesn't seem so bad. The majority of police shootings in this town are to
euthanize injured deer
, for instance.
People will still assume those abuses happen in HRM, says the chief of police, because they see it happening everywhere else. "We
recognize
that even though the stuff doesn't happen here that happens elsewhere, we have to work to ensure that we maintain trust."
But whether that "stuff" is happening here doesn't really matter. Cops shouldn't be congratulated for not murdering people, says social worker Robert Wright.
"I don't think we should measure how well we're doing by how few people our police are killing," says Wright. "If that's how we're measuring how well we're doing, we've gone to hell in a handbasket."
Wright was one of three prominent advocates for the African Nova Scotian community who
recently submitted a letter
to the province's Serious Incident Response Team and Human Rights Commission asking for a halt of HRP's street checks to allow for an independent review of the practice.
The letter was sent after commissioner Sylvia Parris asked for a moratorium on street checks back when the data first became public in January. Parris' idea was
rejected by Blais
. The chief said more study was needed before any operational decision should be made.
Wright says he counts Blais as "a friend and an ally," but he was still shocked and disappointed by the department's reluctance to halt—at least temporarily—its street check practice.
Still, credit where it's
due,
says Wright. When the dust settles, Blais and HRP are "at the table, talking."
The chief has been a progressive presence in the department since being appointed in 2012. He openly talks about combatting the "patriarchal" and "male-hegemonic" nature of police institutions. Under his watch, and in consultation with members of the LGBTQ community, Halifax Regional Police this year became the
first department in the country
to voluntarily step back from participating in the Pride parade.
It's an important and welcome step, says Nova Scotia Rainbow Action Project chair Áine Morse, but not enough of a reason to go easy on holding the cops accountable.
"Just because we have it better doesn't mean we can lose sight of the things we need to change," says Morse. "Systemic violence in Nova Scotia looks different, sure, but it's happening and to deny that reality denies 
the experiences of an incredible number of Black, Indigenous and people of colour in our community."
Systems are slow to change by their natures, so really it comes down to how nimble the police department can become, and how quickly it can respond to the expectations of its 
community.
"Are we going to be able to know what those expectations are?" says Blais. "Usually you don't know what those expectations are until there's an issue."
What does Halifax want from its police force right now?
"That's what I'd like to know," says the chief.
He's not being coy.
"I hope there's, in some sense, some patience in the community that does acknowledge we've started on this journey."

tweet this
Reform is a slow train. It will take at least 18 months to put all the board's new policies together. The final tally on HRP's inventory of drug exhibits? Blais told the board this week that could take a few years. The analysis being done to understand the cause of the "ethnic disproportionality" in the street check stats? According to HRP's research coordinator, that kind of data "rarely provides conclusive answers."
"I hope there's, in some sense, some
patience
in the community that does acknowledge we've started on this journey," says Sylvia Parris,
civilian
appointee to the board of police commissioners and its only African Nova Scotian member.
"We're willing to do the work. But I also hope that they take very seriously our offer to hold us accountable. Ask us stuff. Ensure that this feedback you've given us has been well thought through."
The public should never hold off on speaking its mind, says Wright. In fact, the need for that discourse is greater than ever. Studies, consultations and policies can take years to implement. But if something happens today that's horrific, and the public responds to it tomorrow, he says, those demands will help shape the process immediately.
"There will always be a need for activism, to speak loudly about what the needs are for this day—for this moment—and to goad and
chide
and highlight for the systems that the public are needing."
The goading and chiding shouldn't always be directed at
police
though, Wright says. In the bigger picture, dealing with policing problems will mean looking inward.
"Police forces are tasked by civilian governments," he says. "That's how they're funded and that's how they're directed...We have to be careful when we're rushing to complain about police and policing that we're not absolving ourselves from the problem."
Solving the society police emerge from is going to take a lot more than a couple of facilitated planning sessions. It will require a more community-minded form of policing, and a culture working fully to address issues like income inequality, gentrification, institutional racism, education reform and social welfare programming. The sorts of things "the police have nothing to do" with, says Wright.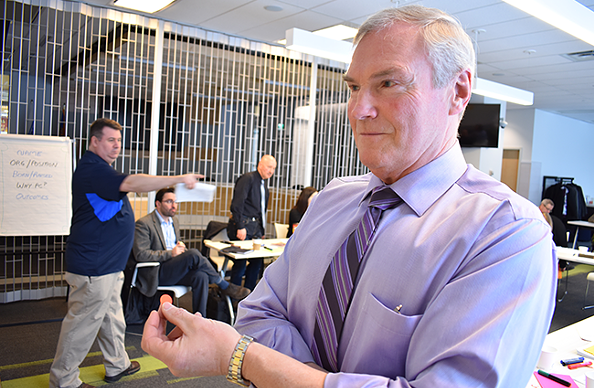 Do you trust the police?
If not—and there's plenty of reasons historically and socially why you shouldn't—the Board of Police Commissioners, acting as
conduit
between cops and community, will be trying to rebuild some of that trust.
"Let's strip away the
organization
," says Steve Craig. "We come down to individuals.
"What I would hope is that people would look at a police person—whether they be in the services of the RCMP or HRP; whether they be civilians or sworn officers; whether they be a constable or the head of the police force; whether they be a commissioner on the board of police commissioners—that they know that their interests are being thought of continuously and worked on continuously for the benefit of all."
Near the end of last week's work-plan meeting, a member of the public who had been sitting quietly at the back of the room was invited up to a microphone to speak to the board.
The woman, a past victim of serial sexual predator and convicted killer William Shrubsall, had been walking through Alderney Landing when she saw the Board of Police Commissioners sign taped up on the glass meeting room's door and decided to drop in.
She sat, listening to a lot of corporate action-planning that stressed repeatedly how the board should be the ears of the public—how to consult with "justice stakeholders."
"Does that include victims?" the woman asked. (The Coast is choosing not to use her name, by her request.) And who's following up on that input once it's given?
"People don't feel they have any impact when they provide that feedback," she told the board. "You need to tell them what police are actually supposed to do, and allowed to do, because
otherwise
they don't know how to provide critical input, right?"
Her statements were a reality check on what had, until then, largely been a bureaucratic boardroom exercise. It was a reminder of the humanity at stake in all these reports and policy decisions; a clear example of what should be the board's highest-priority target right now.
People in this city demand better from their police.
"It's one of those things where there is a great changing society out there that we need to be responsive to," Craig told his fellow commissioners as the meeting ended. "I'd like to get there in the next few years...I think we can do it."
———
Correction: An earlier version of this article incorrectly said HRP's recently-approved surveys would be conducted by CRA at a cost of $17,ooo annually. Those details are still being finalized and no contract has been awarded at this time. The story has been updated to reflect this. The Coast regrets the error.