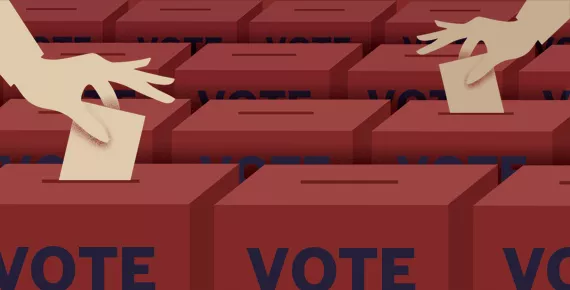 There are a lot of people in Canada who don't like Stephen Harper. A majority of voters, in fact, have tried in vain to replace our sitting government over the last couple of elections, only to watch as the Conservatives march to victory through the fractured left of the Liberals, NDP and Greens. So, the theory goes, let's smarten up and get strategic.
As of this writing, the Liberal Party is within reach of forming a minority government. A recent Forum Research survey found support for Justin Trudeau's party is at 37 percent, while Stephen Harper and the Conservatives hold second at 31 percent. The NDP is now a far-off third, at 23 percent. In terms of seats, it appears the Liberals will be 25-30 shy of the 170 needed for a majority government.
Which is not a comfortable-enough lead for Canadians hoping for a non-Harper prime minister on October 20. This election, more than ever, has been dominated by the numbers game. Strategic voting has become the progressive religion when it comes to toppling the Conservatives. It likely won't work.
Since the last federal election in 2011, a range of websites and eager advocacy groups have arisen to help Canadians make up their minds come October 19. Sites like votetogether.ca, anyonebutharper.net and strategicvoting.ca are all hoping to weaponize voters for maximum damage on the Conservative regime.
According to the latter, nearly five million progressive voters who went to the polls in 2011 didn't elect a single MP. The combined progressive vote in those 57 ridings, however, would have been greater than the total Conservative support. So it's a no-brainer—pool all left-leaning voters to strategically elect whoever has the best chance of beating the Tory.
In Atlantic Canada, the strategic advocates have identified 14 swing ridings—four of which are in Nova Scotia. Progressive voters are being asked to vote Liberal in Central Nova, Cumberland-Colchester-Musquodoboit Valley, South Shore-St. Margaret's and West Nova. The HRM, meanwhile, doesn't play as much of a factor. With a Liberal and three NDP incumbents, the Conservatives are unlikely to take any seats.
Beyond potentially ousting Stephen Harper, strategic voting also combats the democratic apathy in which Canadians feel their voice doesn't matter. It's also cooler. Tactical voting sounds badass, and imbues Canadian voters with the confidence that they're gaming the system like a sabermetric superhero.
It's a nice feeling, but reality suggests strategic voting plays a very small role in elections compared to traditional, "sincere" votes. Research from the University of Montreal's political science department has shown a reticence for strategic voting amongst those who already politically identify with a particular party. Strategic voting also doesn't seem to match up against strong political stances, or even the work a particular candidate has done for their neighbours and community. All those elements play a much larger influence on where the X is marked.
"The promise of strategic voting is, in the end, a siren song," McGill political science professor Antonia Maioni recently wrote in the Globe and Mail. "People who show up at the ballot box are overwhelmingly those who vote by conviction rather than calculation."
There were similar strategic voting efforts before the 2011 election. Although they were nowhere near the funding and scale Canada has seen in 2015, the impact of tactical voting in 2011 seemed miniscule.
Directly after that election, punditsguide.ca's Alice Funke called out the "unsophisticated data-crunching" behind seat projection websites for getting Canadians engaged in democracy under the false pretense of gaming the system: "Your vote is your opportunity to express your point of view. Don't let others try and divert it for their purposes, and don't believe strategic voting snake-oil salesmen and soothsayers. They actually have no idea which way a riding is going to go, nor what is the best way to vote to stop that....If you vote in favour of something or someone, you will never have to second-guess whether the choice was correct."