T
o call Halifax Pop Explosion a varied fest feels obvious: The venerable event has been celebrating the best of local, national and international acts for more than two decades. A peep at this year's schedule alone—which saw
bluegrass-y concerts in churches
slotted next to sweeping emo showcases on the city's biggest stages—belies both the breadth of experience and sound that awaits when you buy a wristband.
All of this is to say that you can expect two things at HPX: To see something great and to be surprised. As Coast contributors navigated the three-day schedule, here were the moments that ticked both boxes, standing out as highlights in a sea of stars:
"The best part of HPX is seeing something you've never seen in Halifax before," writes music journalist
Jonathan Briggins
. "A highlight this year was a Halifax artist who has played a million shows in his hometown, but rarely something like this: Arriving in an inflatable coffin,
Rich Aucoin
brought his album release to life at St. Matthew's Church with a dozen talented musician pals. The party-pop star left the parachute and confetti cannon home and replaced it with a pipe organ and multiple saxophone solos. It was magnificent, ambitious and a reminder of how seriously Aucoin takes his craft."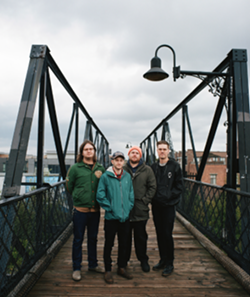 To Coast writer
Alec Martin
, a good post-concert afterglow is what it's all about: "As I followed the crowd out of the Marquee after
PUP
's show on Friday, I heard plenty of people talking about their new bruises—but heard just as many people excited about how they found a new favourite band in one of the openers, Weakened Friends," Martin writes in an email.
"This embodies what I think is the most important part of any music festival: Going to see a band you love and coming away with a new act to follow and support as they grow."
To concert reviewer
Mary Collier
, good ambiance is why live music can't be beat: "My favourite moment of HPX was seeing
Spencer Krug
and
Charlotte Cornfield
at the Saint Matthew's United Church," she writes. "The combination of the grand piano, stained glass windows and the acoustics of the church was enchanting. It was one of those moments where I just felt so lucky to be there to soak in such a unique show."
As for me, I'm still reeling over the always-excellent live show
Snotty Nose Rez Kids
put together—it felt like the entire Seahorse Tavern was jumping in unison as MCs Young Trybez and Young D bounced razor-sharp lines off each other, pulling off a lyrical two-step matched only by giants of the genre like OutKast (feels like a hyperbole, but I promise it's not).
Here's to the songs still stuck in our heads and the fun that awaits next year.