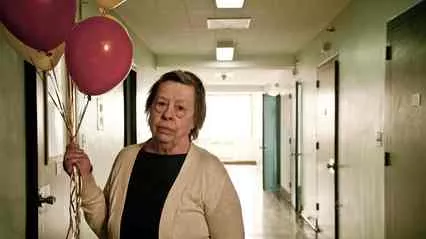 With shorts, the filmmakers deliberately size down their films. They are not necessarily being downsized by someone or something else.
From the Atlantic Shorts III program, which screened on the first Monday night of the festival, one film in particular demonstrated the big impression a small film can make.
Rhonda's Party, the seven-minute movie from director Ashley McKenzie and writer Christine Comeau, turns gracefully from a moment of anticipation to disorientation to contemplation.
Rhonda's last-minute preparations for her best friend Margaret's 100th birthday party, which will be held at the nursing home where both women live, are interrupted by an unseen event. Performers and viewers together face the realization that friendship establishes a recognizable, comfortable pattern in our lives. But the pattern may suddenly change, a new motif introduced. And then what?
Playing Rhonda, Marguerite McNeil inhabits character and moment to give the film depth that far outweighs its duration. Karine Vanasse, as Amy, a nurse, provides perfect counterpoint.
Add to to these performances a simple but effective approach to cinematography and sound.
At one point, Rhonda looks down a long corridor of open doors to various residents' rooms. A static, point-of-view shot from Rhonda's perspective, the visual contrasts with the rhythmic, kinetic beat of a samba band that's arrived (off-camera) to play the party. Once again, actor and audience members experience the same sensation: feeling drawn along to face what's on the other side.
Such a brief meeting turns into friendship. I'm thinking of Rhonda still.