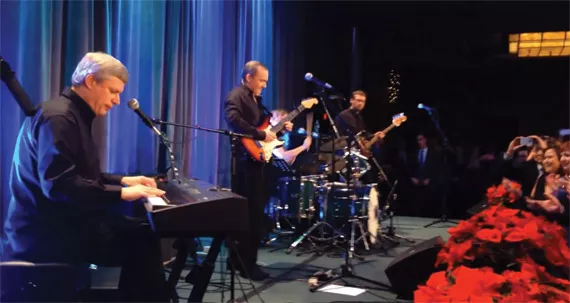 "Country roads take me home, to the place I belong, West Alberta, Mountain momma," belts Stephen Harper, his Kermit The Frog-esque voice going flat when the notes escape him, stage lights dancing off his Lego-like coif, at last year's Conservative Christmas party. Bopping his chin robotically, he also busts into a nasally rendition of Guns N' Roses' "Sweet Child O' Mine." Those close to the stage clap dutifully. Don't be fooled by Harper's habit of making his supporters, media and even foreign leaders endure awkward attempts at singing: If the current prime minister has a soft spot for the arts, it only appears when taxpayers foot the bill for his make-up artist's travel. While he publicly insisted that the arts were a "niche issue" that doesn't affect "ordinary Canadians"—you know the type who just want to "turn on the TV" without seeing bougie artists at "a rich gala subsidized by taxpayers"—the arts are a key election issue that he's taking a lot of well-earned heat for.
Two hundred Canadian artists, including Margaret Atwood and John Dunsworth, lambasted the PM for Bill C-51—a controversial "anti-terrorism" bill recently passed into law and dubbed a "secret police bill" by critics. It expands the power of CSIS, which can now take actions such as interfering with a suspect's travel plans or bank transactions, and police, who can now make arrests without warrants. Artists claim the new law hampers freedom of expression. They're not the only critics: C-51 is problematic because of its incredibly vague language, targeting "terrorism in general" and activities that simply "undermine" the security of Canada.
"This is a new and astonishingly broad concept that is much more sweeping than any definition of security in Canadian national security law," claim lawyers Craig Forcese and Kent Roach (Canadian Privacy Law Review, 2015). Though the Conservatives added amendments, exempting people engaged in "artistic expression" from the scope of C-51, too much power lies in the hands of those who enforce the new law to interpret it. How can you trust government workers to decide whether an activity constitutes "art" when you'd be hard-pressed to find a unified theory on the subject amongst artists themselves?
Artists' distaste for Harper runs deeper than C-51, though. Many are still reeling from the effects of the 2012 cuts to arts, culture and heritage organizations—implemented in stages over three years, followed by frozen budgets in 2015-16. The Tories gutted the Canadian Heritage portfolio by nearly $200 million, leaving the CBC out $115 million and also slashing funding for Telefilm, the National Film Board, the Department of Canadian Heritage and Library and Archives Canada. While the Conservatives maintained existing per-capita funding to the Canada Council for the Arts, they didn't account for inflation-associated costs, so the Council's funding has actually fallen 2.5 percent in the last decade.
Telefilm laid off 30 full-time employees and cut $2.7 million following a 10 percent federal cut, but there's an economic case to be made. "In 2013-2014, total film and television production in Canada [domestic and foreign production] created 124,000 full-time equivalent jobs and generated $7.5 billion in GDP for the Canadian economy," says Telefilm's communications manager Douglas Chow. New StatCan data also shows that the arts, culture and heritage sectors add $868 million to Nova Scotia's economy and over 14,000 jobs—pretty impressive for folks who allegedly spend all their time at fancy galas.
Symphony Nova Scotia had to take "some pretty aggressive action" over the past few years to deal with a six percent decrease in Canada Council funding. "I had to lay off a staff person to mitigate some of that," says CEO Chris Wilkinson. Though people "tend not to assign value to not-for-profits," he stresses the symphony is "a highly viable business"—backed up by $3 million in donations, matched by Heritage Canada's Cultural Incentives matching grant program.
Many artist-run centres and non-profits, especially those serving younger people and students, would be hard-pressed to come up with that kind of money, though. While there's a strong economic argument to support the arts, it's not enough. And it shouldn't be, no matter what Harper thinks.