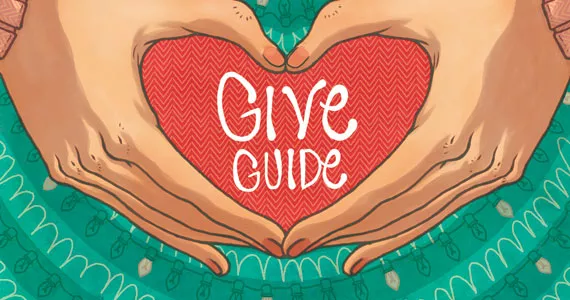 Barry House
422-8324 | website
How to give: Look to Metro Turning Point.
Barry House provides shelter to women, children and pets. Barry House provides three meals a day and has space for 20 people a night. The belief is that once housing needs are met, other needs can be addressed. Bill Pratt, executive director of Shelter Nova Scotia, says "by the time a person ends up here, they're facing some enormous obstacles." He says they can receive shelter, "no questions asked." —Charlene Davis
---
Books Beyond Bars
5684 Roberts Street | 446-1788 | website
How to give: Mail a cheque to Books Beyond Bars, drop off blank journals without metal coil bindings at Roberts Street Social Centre or pick up a copy of Words Without Walls at Venus Envy.
When Sarah Evans started going into the Central Nova Scotia Correctional Facility in 2005, she only planned to bring books to female inmates. But the women asked her for blank journals, keen to pen their own stories. Books Beyond Bars published the women's poetry and artwork in the book Words Without Walls. The program also records mothers reading stories aloud in prison, for their children on the outside. Writing provides incarcerated women with "a way of leaving a legacy," says Evans. —Lizzy Hill
---
Bryony House
429-9002 | website
How to give: Money and non-monetary donations, such as clothing, toys and non-perishable food, via the website.
Bryony House is a shelter that provides support to abused women and their children. It was the first transition house in Nova Scotia and receives 75 percent of its funding from the Department of Community Services. It relies on donations to make up the rest of its operating costs. Bryony House provides shelter to about 450 people each year and responds to over 2,500 distress calls. —CD
---
Feed Nova Scotia
213 Bedford Highway | 457-1900 | website
How to give: Donate money through the website. Drop off food at the Bedford Highway location or non-perishable food at Sobeys and Superstores.
Feed NS distributes almost two million kilograms of food a year through 150 food banks. The holiday season is when FNS receives most of its financial donations. "We typically reach 45 percent to 55 percent of our annual budget at this time of year," says executive director Dianne Swinemar. Those donations keep the organization---and the flow of food---running smoothly. Although donations come in more often at this time of year, demand is also up. Swinemar suggests holiday parties as a perfect way to collect donations and gifts for Feed Nova Scotia. These small donations quickly pile up. "Put them all together," she says, "and it makes a big difference." —Simon Thibault
---
Gerald Hardy Memorial Society
22657 Highway 7 | 885-2300 | website
How to give: Phone to arrange cash donations or before dropping off thrift store items.
The Gerald Hardy Memorial Society in Sheet Harbour helps adults with intellectual disabilities or mental health issues in finding work experience. One of the ways they do this is through a thrift store and food bank that the society operates. "We're always looking for donations for the store," says Cathy Chittick, one of the society's employees. The Rainbow Food Bank helps roughly 75 families who live in the area, and Chittick says that at this time of year, "stocking food bank shelves is the big thing." —ST
---
Halifax Housing Help
423-0722 | website
How to give: Halifax Housing Help appreciates cash donations best because of the flexibility money allows in helping people. There is a donate link on their website. They will also take small household goods such as towels and kitchen supplies.
Halifax Housing Help is a program of Metro Non-Profit Housing Association and partners with Direction 180. The goal is to help single adults who are homeless or living in precarious situations to find and maintain suitable housing. HHH assists people with needs such as money management issues, housing searches and negotiating with landlords. —CD
---
Hope Cottage
429-7968 | website
How to give: Hope Cottage welcomes financial assistance and food donations. People can donate online or in person.
Hope Cottage is a soup kitchen that started in 1971 and serves about 220 meals a day, providing a sandwich and soup brunch in the morning and a baked supper at night. Cathy Hutt, secretary and volunteer supper coordinator, says people can help out through making meals such as sandwiches or casseroles, coming in to serve when the need arises or giving donations of food or money. —CD
---
Metro Turning Point
420-3282 | website
How to give: Donate money, becoming a monthly friend supporter, run a campaign, give supplies or write warm words that can be passed on to encourage someone staying at the shelter, all through the website.
Metro Turning Point, a facility of Shelter Nova Scotia, provides shelter to men and their pets regardless of barriers such as mental illness or addiction. The shelter is open 24 hours, has 80 beds and allows men to stay as long as they need until other housing can be arranged. —CD
---
Out of the Cold
225-0770 | website
How to give: Money donations can be made online, in person or mailed. A supplies needed list is online. Help with fundraising, grants or laundry services.
Out of the Cold provides winter shelter to men, women, transgender individuals, youth (16 and up), people with low mobility and people with pets. The shelter will not turn anyone away because of intoxication or unconventional behaviour, providing they aren't a danger to themselves or others. The shelter provides access to help with housing and health. —CD
---
Parker Street Food and Furniture Bank
2415 Maynard Street | 425-2125 | website
How to give: Donate money through the website. Food donations can go to the Maynard Street office or to Barrington Street or Quinpool Road Supeterstores. Call for furniture pick up.
The Parker Street Food Bank started in 1983 with a simple mission: to provide low-income families access to food. Now it helps people with various needs, such as household items and training. It also operates two storefronts selling gently used goods, called Great Things In Store, where proceeds go back to help run the organisation. This year, it started a development training centre with the help of the NSCC. The centre teaches basic computer skills to help individuals learn how to formulate resumes and more. —ST
---
Saint George's Youth Net
221 Maitland Street | 422-4614 | website
How to give: See the website to volunteer or to give money or food.
On Maitland Street, there is a fence painted with pictures of smiling kids, a welcome sight to the kids who access Saint George's Youth Net, an organization that helps youth in the north end with lunches for kids and after school drop-in programs, including workshops based around the arts, as well as its Seeding To Feeding program, which teaches kids how to grow and prepare their own food. —ST
---
SHYM
Contact: 465-2213 | website
How to give: Give monthly donations, make a one-time donation or contribute through holding a fundraiser or 50/50 draw. Check the website.
SHYM---Supportive Housing for Young Mothers---exists to provide young mothers a safe place to live and to develop essential life skills. Mothers also receive access to services such as family support counselling and child development and parenting programs. Mothers may stay at SHYM, receiving live-in staff support, for up to two years in an environment where they can feel supported, less stressed and more confident in their ability to parent. —CD