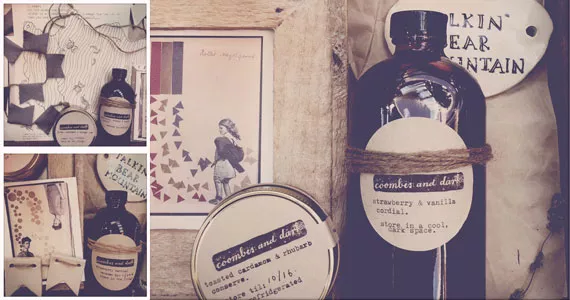 L ydia Fulton grew up in Devon's countryside, learning lessons about self-sufficiency from her grandparents, who ran a farm and sold homemade goods from a shop on the property. That sentiment stuck with her, and even after studying and landing a full-time job in London, she sold her homewares and lemon curd from a table at Brick Lane market.
After moving to Halifax with her family nearly five years ago, she discovered the city's farmers' markets, but it was the brewery-based Historic Farmers' Market that reminded her most of home. "Pretty soon it became a weekly place for us to go as a family. We saw the same faces there every week. It had that community feeling," says Fulton. "When I was tiny, someone would come and buy butter from my grandparents, but they'd stop and have a chat. And ask about their week. It was more than just buying 
butter."
It was that familiar feeling that pushed her to bring coombes and dark to the table. A selection of preserves and housewares, the line of handmade treasures—which pays tribute to her maker grandmothers' by using their maiden names—debuted quietly about three years ago selling lemon curd and paper goods.
"It really revolves around the things we have in our home, or use in our home. Everything is made in really small batches, especially the jams," which she makes without using commercial pectin. "You can't make 20 jars of jam and expect them to be the same quality as if you make six. I didn't want to go down that route."
Fulton says her table's selection remains fluid because of this, and her use of fresh produce. Once the strawberries her family gathered over the summer months runs out, you won't see cordial again until the next picking season. The same goes for her handmade housewares—like her hand-stitched Christmas tree bunting—which helps to fill out the table when the produce selection is thinner.
"Because I have two small children, it works well to create enough for one week, and then start over the next." Among the jars you'll find at Fulton's market stall these days are fig, lime and vanilla jam, salt and pepper plum spread, plum cardamom and orange preserve, as well as cranberry syrup and a chocolate and raspberry spread. And for the holiday season, she'll be selling gift sets (four preserves and a card, or two preserves, a cordial and a card) for $25. Find coombes and dark at the Historic Farmers' Market (1496 Lower Water Street, 7am-1pm) for the next two Saturdays, and then again after the holidays