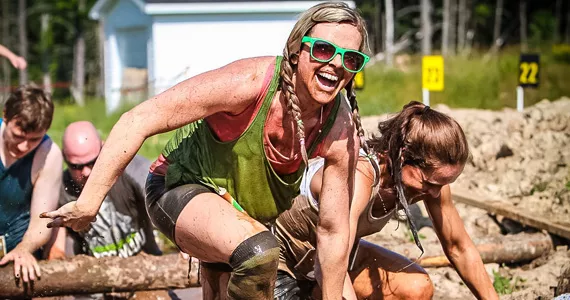 June-August
Anchor City Rollers
Derby competitors have a gift for naming. Local skater alter egos include solid gold like Punchy Bruiser, Smackeroni N' Cheese and Demon in the Rough. So, it makes total sense Halifax's first all-female roller derby league has begun its third season with a new identity---the Anchor City Rollers. The volunteer-run league continues to grow, boasting 100 members and scads of fans who love watching the fast-paced, full-contact rough-and-tumble sport. It's gritty in the best way possible. This summer the local teams hope to hand out beatings to squads from New Glasgow, St. John's, Moncton and New Glasgow over the summer. And you can get in on the action easily: check out home games on June 21, July 5, August 9 and August 30.
Shannon Park Arena, 474 Princess Margaret Boulevard, $12, season's pass $25 at The Cocoon Boutique, 2179 Gottingen Street
June 28 Mud Craft
Getting slimy in Gore sounds like a memorable time, does it not? Mud Craft, like its dirty cousin Mud Hero, is an obstacle course and total physical challenge, and it's the first one of these races that's homegrown, started right in the awesomely named valley of Gore. Test your body, mind and apprehension for getting all mucked up with this six kilometre course, packed with 20 obstacles ---including but not limited to sand dunes, stanky swamps and bubbling ponds---or just provide moral and vocal support as a squeaky clean cheerleader.
Gore, Nova Scotia, $65, mudcraft.ca
June 28
Twin City Wrestling: Evolution of Championship Wrestling
Cozy up ringside and you might just get your mug on the TV, this evening of matches is being taped for television. Twin City Wrestling, the Dartmouth crew devoted to breathing new life into the slammin' sport of wrestling, presents this evening of champs featuring Canada's top female wrestlers---Leah Von Dutch and Courtney Rush---former Grand Slam winner Chris Sabin, Cody Hall, the TCW Heavyweight Championship and much more excitement (a "lava match"?). Curiousity alone should lead you here, but also the fact that TCW might just be responsible for Halifax's wrestling renaissance.
Halifax Forum, 2901 Windsor Street, 7pm, $20-35, twincitywrestling.com
June 29

Epic Dartmouth
Epic isn't the kind of title you just throw around, and this event totally earns its badass name with four major endurance-testing races in one day. Only the truly epic test themselves via triathlons, and this one usually attracts over 100 truly epic, otherworldly athletes. You're going to want to hydrate just reading this. Each triathalon---whether the Aqua, Epic or Iron---includes a 3,800 metre swim, followed by a 180 kilometre bike ride and then either a 300 metre, 21.1 kilometre or 42.2 kilometre run. In short, these incredibly fit individuals deserve your claps, hollers and positive vibes. They'll also deserve a large celebratory meal and some serious foot rubs.
Dartmouth, 7am-10pm, epicdartmouth.com
June 30- July 6
Golfest
Give your most polite round of applause for this annual celebration of golf, which takes place every summer over the week surrounding Canada Day. This year the green will host the Nova Scotia Open---which is also the first event in Canada for the Web.com Tour AKA the gateway to the PGA, AKA a big deal---the Junior Canada Cup and the Canada Cup, where pros like Mike Weir and David Hearn will go to putt for Team Canada. Golf die hards---this is the best competition you'll see here at home, start pressing your slacks now.
Ashburn Golf Club, 60 Golf Club Road, Fall River, $15-150, ticketatlantic.com
July 5-6
Mud Hero
These crazy-messy obstacle courses look like possibly the most fun ever. The terrain is tough---six kilometres of Ski Martock's hills and trails plus over 15 extra things to climb, jump over and slither through---and every participant is in full swamp monster mode, covered from toenail to earlobe in muck. Mud pits, slides and crawls will keep you doused in a lovely shade of brown while wall-climbs, hurdles, balance beams and backwoods trekking will keep you sweating bullets. It's a no-holds-barred type of race where the winners and the losers will have both mud and huge smiles plastered across their faces. You're welcome to dig in or cheer on, and there's a celebratory Mud Bash to follow with eats, beats and prizes.
Ski Martock, 370 Ski Martock Road, Windsor, $75 (free for spectators), mudhero.com
July 12
Dragon Boat Festival
For the last 17 years, the Dragon Boat races have painted Lake Banook a nice shade of rainbow every summer in the name of the Nova Scotia Amateur Sport Fund. But dragon boating has been a Chinese tradition for over 2,000 years, taking place in countries across the world. The Dartmouth version of the race gathers teams of 22---and you don't have to be an expert paddler--- to put their best stroke forward in the name of charity. But it's not just about the race. Once you're done cheering, or paddling, there's a full day of activities to enjoy, from food to Chinese cultural entertainment, games, kids' stuff and vendors.
Lake Banook, Dartmouth, dragonboat.halifax.ns.ca
July 12

Spartan Race
THIS IS SPARTA! Ski Wentworth, that is. Continuing on the trend of using our ski hills as venues for these insanely creative obstacle-filled races in the off-season, Wentworth hosts the first Spartan Race to hit the east coast of Canada. Challenging "warriors" in cities worldwide, this race is all about intensity, whether you're running, climbing, lifting, dodging or doing burpees. The five-kilometre mission is full of hurdles to power through, and you don't have to be Gerard-Butler-ripped to succeed, it's family friendly. Washboard abs also aren't required for onlookers.
Ski Wentworth, 370 Ski 14595 Route 4, Wentworth Valley, $85 (lower if you're on a team), ca-en.spartanrace.com
July 6-13
Antigonish Highland Games
It's all about brawn at this tournament, which has had kilt-wearing athletes wielding large objects since 1863. That's 151 years of track-and-field, tug-of-wars, farmers' walks and throwing heavy things (like cabers, hammers and stones) high and far. It's an entire week of cultural events, food, music and celebration, but these traditional sports are as intense for spectators as they are challengers--- they've got athletes from all over the world coming to compete in these feats of strength.
Antigonish, ticketatlantic.com
July 5
Atlantic Pole Fit Championships
This is the third year this test of strength has taken place in Halifax, proving wrong all of the doofuses who say this pole fitness isn't a sport. You try supporting your entire body with only your thigh! With four divisions of competition ---amateur, semi-pro, pro and doubles---and the most hilarious person in town, Cheryl Hann, hosting, you'll be wowed by mega strength and weak with laughter.
Schooner Showroom, 1983 Upper Water Street, 7pm, ticketatlantic.com
August 23-30
Nova Scotia Open Tennis Championships
If you haven't got love for the mesmerizing game of tennis, this tourney might change your mind. People of all ages, and skill levels, from across the province have been saving up their best grunts and backhand shots for this annual championship. It's an event worth making a racket about.
The Waegwoltic Club, 6549 Coburg Road, tennisnovascotia.ca
August 29-31
Sandjam
For the fourth year running this premiere event returns to Halifax's waterfront, dumping a boatload of sand at Lower Water and Salter streets and turning what's usually a big ass parking lot into the perfect outdoor stadium for beach volleyball fans and players.
This year sees the top eight male and female pairs in the country face off for the weekend-long Canadian National Team Beach Volleyball Championships. And if your front row seat to massive blocks and mind boggling digs isn't enough, there'll also be a Rock the Beach concert on August 30 (thanks to Live 105), but the headliner remains a big fat secret at press time.
Sands at Salter, Halifax waterfront, $18-$26 ($60 tournament pass), sandjamhalifax.ca