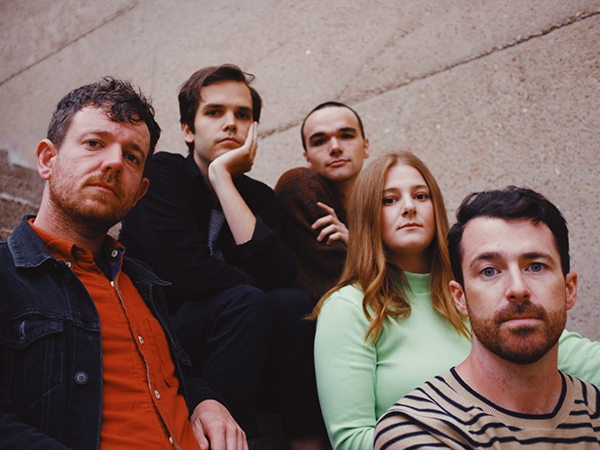 Sorrey w/Calm Baretta, Little Cities, Vince The Messenger
Fri Oct 25, 4:30pm
The Carleton, 1685 Argyle Street
$10
---
F all may be nature's brilliant and prolonged sendoff before winter, but this year it's also the start of Sorrey season.
"I do feel like we're blooming. I feel like we're taking advantage of all these opportunities and people are really supportive of us right now," says Emilee Sorrey, who recently moved to Halifax from Charlottetown.
Recordings for the songs on the debut full-length Sorrey album In Full Bloom, which came out on October 18, started in late 2016—but it wasn't until this time last year that the recording process really went through a growth spurt.
The combination of a stable lineup of band members and having them all based in PEI at the same time helped Sorrey hit what she describes as a "sweet spot" with the band.
"We found a really comfortable pocket of playing shows and not necessarily thinking about all the other things like album cycles," says Sorrey. "I feel like if members kept coming and going, I feel like we would just forever be in the purgatory of being an East Coast touring band."
The writing sessions for In Full Bloom were a new element for Sorrey. Up until that point, the band mostly performed songs that Emilee Sorrey wrote for the Thick As Thieves EP released in 2015. Now, the group had a clean slate—and the input pushes the band out of the dream pop realm into multi-genre reality.
"The deviations from a true dream pop sound is 100 percent the people in the band, what they bring to it," says Sorrey.
Keys from former band member Willow Bell (Whaleskin) bring in dance elements on the track "Fast Chunk." Bruce Rooney plays keys for Sorrey—but guitar with other bands, including PEI's indie rock Coyote—and Sorrey describes him as a dad-rocker at heart. Bassist Colin Buchanan, meanwhile, also plays guitar for Paper Lions.
"It's like actually we're five guitar players. Me and Andrew (Murray) get to play guitar but everyone else has to play a different instrument," says Sorrey, whose band is rounded out by Luke Pound on drums.
The new album's title track is one Sorrey hasn't played live but is looking forward to taking on the road. While the importance of "In Full Bloom" is clear from its use as an album name and the accompanying artwork, it also gave the band that same sense of blooming.
"I loved how that song came together and I love the direction it gave the album. It just really felt right. I can sense when the rest of the band is super on board—they're always on board—but sometimes they're more on board with things. It was a palpable sort of feeling," she says of the track that came together in Montreal.
All the conditions were right for a new Sorrey and there's a positive energy and excitement to see what comes next as the band continues to flourish.
"We decided to release our record now. It's just kind of on our watch. It feels like we're blooming a little out of season, but people still want to watch and they want to support it."