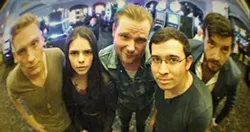 Local indie rock outfit SoHo Ghetto will be playing its last-ever show on Friday at the Seahorse, three days before frontman Marc-Antoine Robertson departs Halifax for Toronto. "It was just a natural kind of ending," he says, almost apologetic for the lack of scandal. "I wish there was more dirt there."
With diverging career interests causing SoHo Ghetto's ranks to shrink from seven to five to three members, Robertson's plans for a follow-up to 2014's well-received, Daniel Ledwell-produced Thou or I or Both "quickly morphed into what is essentially my solo project."
By taking that project to Toronto he's readying himself to be a "much smaller fish in a much bigger pond and take all the experience I've had here and connect with the industry there and see what happens." Robertson's career as a Haligonian musician began at a New Music Tuesday at the Seahorse in 2009, "so it's fitting that it's ending there."
Robertson credits The Company House's owner Mary Ann Daye for helping along the way. "She was really willing to give us early-on headlining nights, to prove we could put together a show and fill a room of that size."
Robertson soon graduated to bigger-capacity rooms like the Marquee and Toronto's Lee's Palace, and now has six years of creating and performing music under his belt. "Hopefully," he says, "we can cap it all off with one last great, balls-to-the-wall SoHo Ghetto performance."
---
SoHo Ghetto's Final Show w/Union Duke, beauts
Friday, July 24, 10pm
The Seahorse Tavern, 2037 Gottingen St
sohoghetto.com
facebook.com/SohoGhetto
sohoghetto.bandcamp.com