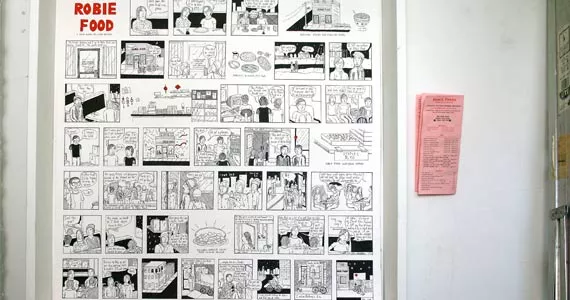 For as long as I've lived in Halifax, I've eaten at Robie Food Chop Suey House at least once a month. The July closure of the longtime Chinese food staple (that coincidentally also sold staples) was—for me and many—one of the saddest moments in Halifax food history to date.
Could there have been a more genuine, down-to-earth restaurant in this city? From the old-fashioned heavy-buttoned cash register to the proudly displayed backhanded compliment of a food review headline—something along the lines of delicious dishes making up for "lack of niceties"—Frankie Lymon and the Teenagers on the stereo, the decor—featuring embroidered tapestries, plastic lobsters and gold-trimmed lanterns—and, lest we forget, the food. Gargantuan portions, easily customizable for the vegan/meat lover/gluten-free/pescetarian/other in your party, spicy noodles, the hedonistic (but vegan!) 100 percent deep-fried Golden Harvest Crispy Fried Veggie Delight, comically large bowls of soup and a red sauce that can only be explained as tasting of melted Life Savers, the closure of Robie Food has left an unassuming white box-shaped hole in the city's dining landscape.
A multi-generational business, the hidden gem had been open for over 40 years, with very few changes. Robie Food fans knew summer was on the wane when their beloved haunt was closed for the requisite two weeks in August, and nothing knocked a cold on its ass like Ginger Chicken Foo Jo soup. Immortalized in In-Flight Safety's "Actors" video, In-Flight's John Mullane and producer Andrew Stretch made use of the location's time-warp effect. "We scouted around for a pseudo-'50s setting and then realized we could do the whole thing in Robie Food. There was this amazing '50s authenticity to the place. Maybe it was the orangey-red vinyl seats in the booths, or maybe it was the counter with the milkshake machine," Mullane says. "But any place where you can get a 'Canadian' hamburger and sweet and sour chicken balls in one meal is just dandy with me."
The patient staff served many raucous group dinners, including a birthday gathering in 1997 featuring a set from the calypso orchestra of the Maritimes, Piggy. "They were super into it," says keyboardist Matt Reid. "I think 'bemused' is more the word."
"At one point the party spilled over outside and some people were dancing on the sidewalk in front, it was a precious moment," says Meghan Merrigan, a lifelong Robie Food fan. "The Bomb Scares also had played a show there. In fact they put out a tape titled Eat At Robie Food. The cover photo featured the three of them in Ray-Bans with their instruments in front of the counter with that classic cash-only register."
Artist Laura Kenins found enough inspiration in the iconic restaurant to make a comic, which was shown in Gallery Deluxe Gallery's satellite space, Gallery Diorama Gallery, in 2007 for its final show. "The stories weren't really so much about Robie Food as weird things that happened around times I was also eating at Robie Food," says Kenins. "I think my favourite story was when a sort of spontaneous party happened one winter at a friend's and we decided to order from Robie Food, but there was a snowstorm and they weren't delivering. The restaurant was still open, though, so we decided to walk there, in this massive group, and by the time we finished eating, it was about 2am and—of course—the snow had developed into this apocalyptic rainstorm."
Maybe it was the patient staff, the luxuriously late hours or the delicious dishes—despite lack of niceties—that made the place so special, but one thing is certain: the closure of this beloved landmark will change the face of third dates, sick days and post-karaoke snack attacks forever.