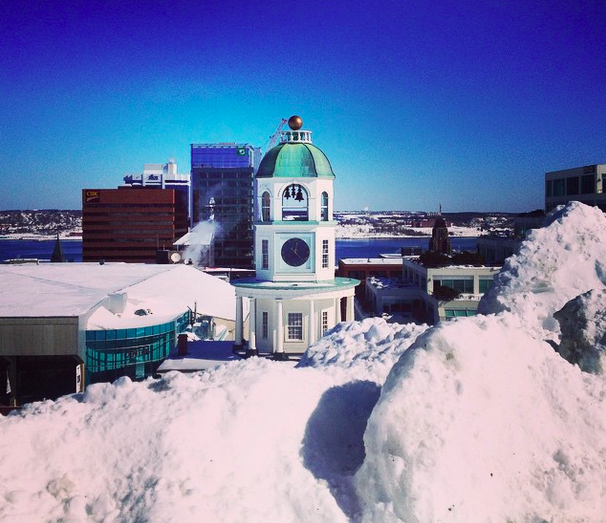 Don't shoot me for saying so, but it's kind of gorgeous outside right now. The sun is shining, it's not very cold, and neighbours across the municipality are sharing shovels and slipping discs to help dig the city out of this monster lizard.
Yesterday brought a hellish amount of snow down on top of Halifax, and today the city begins a lengthy process to try and return to "normal." Bet you never thought we'd be longing for February's streets and sidewalks in March, eh?
Transit was shutdown all day yesterday and into this morning, but beginning today through to the end of service on Sunday Halifax Transit is offering free bus and ferry service. There will be limited bus service from 3-8pm tonight, on routes 1, 2, 4, 7, 9, 10, 14, 18, 20, 21, 22, 52, 53, 59, 60, 61, 62, 66, 68, 80 and 90. Access-A-Bus services remain suspended for today, but will resume tomorrow. The city only has about 40 percent of its fleet, and Go Times is practically useless with the current delays, so you might be waiting around a bit if you do need a ride.
Meanwhile, the city has declared all street parking off limits as crews try to widen the roads. CBC has this handy map to help you find off-street parking as many places open their lots for Halifax citizens. If you have an extra parking space, now might be a good time to talk to your neighbours and see if anyone needs the room.
Councillor Gloria McCluskey has called for the city to declare a state of emergency, but Halifax and mayor Mike Savage say those powers wouldn't do much that isn't already being done. Waye Mason says now isn't the time for blame, but for work:
In a couple weeks we can look at blame or technical, service and funding choices about how things could be fixed or done better next year. That discussion isn't going to help anyone today.

Right now, let's do what we can to help our neighbours and community get through the next couple days.
Happening right now (by which of course we mean all day and probably into next week) is the Halifax Big Digout!. It's a flashmob of infrastructural maintenance that Paul Vienneau (the "asshole with a shovel") is hoping will organize neighbourhoods on Facebook to clear safe paths all over the snow-swamped city. It's all a bit amorphously administrated, but easy to participate in.

How do you take part in the Big Digout? Look for snow, shovel it. How can you help your neighbours? If you see snow, shovel it. What can be done to get Halifax back up and running? Snow. Shovel. Repeat.
Try to get most of that done before the weekend, as a rainstorm predicted for Saturday has the city scrambling to clear catch basins so as to avoid flooding. The city says they have a good handle on problem areas and will be targeting those drains over the next two days so Saturday won't add to all our problems. If you can, clearing the fire hydrants on your street for emergency crews to access would be a big help.
If you are out and about, drive carefully! Pedestrians are going to be on the roads, that's a given. Sidewalks are in some places beyond impassible (one near The Coast's office is covered in about nine feet of plowed-up snow). Wear bright colours and walk against traffic.
We'll get through this all, and definitely earn our summer. But in the meantime, remember...