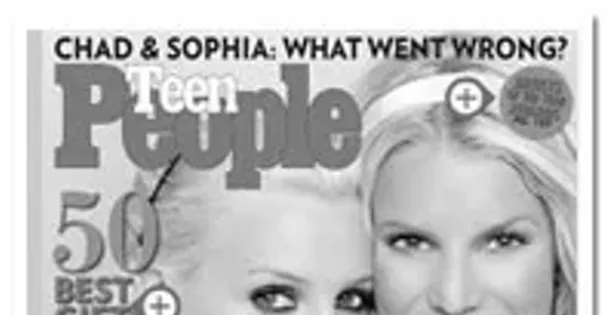 Have you heard of the latest musical trend, teen sibling pop? The best of the lot is Smoosh, a California guitar-and-drums duo with Death Cab ties and remarkable ears for hooks. And there's already a subgenre: white-supremacist teen sibling pop! When teen twins Lynx and Lamb Gaede (AKA Prussian Blue, also the name of a blues-rock band from the UK...that sucks, dudes) appeared on ABC last month to tout the greatness of white people and declare Adolf Hitler their hero, it caused a bit of a stir.
Naturally, the teen magazines (building tomorrow's tabloid stars — today!) came calling. It's not often that teen celebrities are involved in anything really, truly controversial — it's a brilliant issue-based story aimed squarely at the target demographic. ELLEGirl landed the first print interview with the twins, then lost it when they refused to show the subjects the story before it went to press (a huge no-no, if you weren't sure). ELLEgirl is edited by our hero Christina Kelly, and we're glad and not surprised that she's staying on the up-and-up.
But Teen People, reportedly, is not. It's rumoured to be giving the Gaedes a sneak peek at the February story, something they kind of deny:
"'Getting the story was a team effort,' Jeremy Helligar, Teen People's deputy editor, told the New York Observer's Keith Kelly this week. 'We don't give editorial control, but I think people know we stand for fairness and accuracy.' He said that if the magazine was doing a first-person story, it would allow the subjects to have what he called a 'readback.' Helligar insisted the mag's only promise was 'to portray them fairly and accurately.' But the ELLEgirl insiders say they called back, and the twins are under the impression they're getting a prior-to-publication review of the article — with a chance to make corrections."
Karma is a bitch
This is what we get for bragging. A mere week after we boasted of our internationally acclaimed cleverness (i.e., we coined a word that ended up in Radar magazine), our triumph has been neatly dismantled. For Tom Cruise has fired his publisister, Lee Anne DeVette. (Wonder why?) So until Jamie-Lynn Spears takes over rep duties for Britney, we fear "publisister" will spend the next few years gathering dust in dentists' waiting rooms and laundromats. You win this round, Cruise.
Send your invented words along and we'll try and work them in: Anablog c/o The Coast, 5435 Portland Place, Halifax, B3K 6R7.