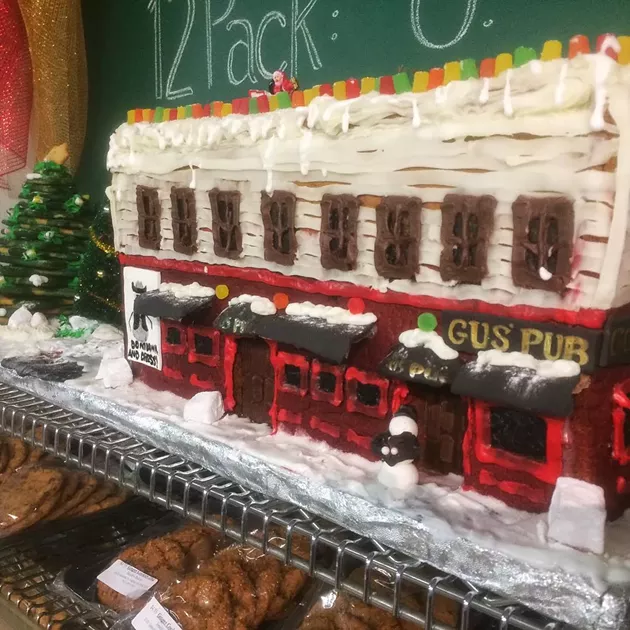 If crafting the perfect gingerbread house takes skill, Lindsey Vidito has lots of it. Enough to make a gingerbread pub, anyway.
Vidito, a staff member at Smith's Bakery and Cafe (2525 Agricola Street), says she's been showing her talents during the holiday season for the past couple of years.
Last Christmas, Vidito's gingerbread channeled the four identical houses on Agricola. Before that, she built an edible Smith's Bakery. Her latest creation is the likeness of Gus' Pub, a neighbouring business and popular watering hole in the city.
"I think we're going to start doing more iconic buildings for Christmas, so I was like, well, we should start with Gus' — 'cause it's kind of an Agricola and North Street-famous thing," says Vidito.
Vidito is a one-person team, and this building took her about six hours to put together.
"I work in the cafe also, so it's just kind of when I have free time," she says.
Vidito adds that this is the first year one of her gingerbread houses has gotten this much attention — in part, thanks to a re-post on the halifaxnoise Instagram. Folks who have been stopping in are taking a lot of pictures.
Icing, fondant, turkish delight "snowballs" (snow cubes?) are all part of the spread. But as sweet as it looks, Vidito wouldn't recommend biting into the thing. It's been sitting out for a little while. On top of that, she had to use some cardboard in addition to the treats to make sure the pieces are structurally sound.
"I don't think anyone would wanna eat it," laughs Vidito. "I might take some Jujubes off it."