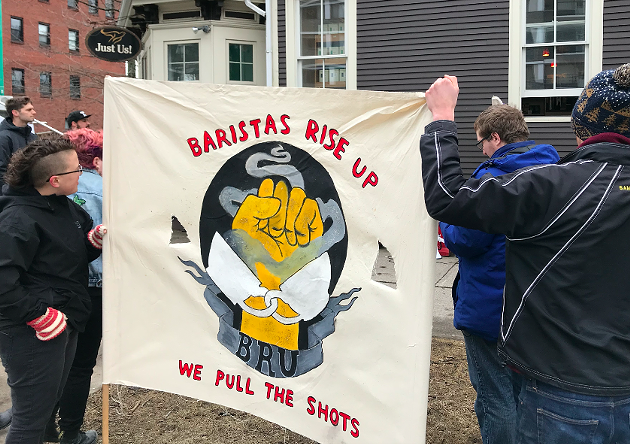 As Smiling Goat employees continue fighting for unpaid wages, at least one former cafe worker is finally getting the money they're owed.
Nova Scotia's Labour Standards board has issued a ruling ordering Smiling Goat owner Kit Singh to pay nearly $1,000 in unpaid wages owed to just one of his former employees.
Hebron Hospitality Group, conducting business as Smiling Goat, is to compensate $670.64 in net wages and $292.93 in gross vacation pay—minus deductions—to Kay Hauxwell, who worked at the Spring Garden Road Smiling Goat for three months last summer.
Hauxwell filed a complaint with Labour Standards back in September after two paycheques totalling a combined $1,600 both bounced. She later amended the complaint to include vacation pay she was never given.
It's a familiar story to allegations made by multiple current and former Smiling Goat employees who have
come forward in the past week
with complaints about late payments, bounced cheques and deductions never remitted to Canada Revenue.
Organizers with Service Employees International Union Local 2 say roughly 45 Smiling Goat paycheques have bounced since September and workers are collectively owed thousands of dollars. 

Employees at the four non-unionized Halifax cafes owned by Singh held a vote last week to join SEIU. The news was announced at a press conference last Friday—the day after Hauxwell's Labour Standards decision was released.
Here's El Jones speaking at this morning's protest pic.twitter.com/j8eXziHLHF

— Jacob Boon (@RWJBoon) March 31, 2018
In the ruling, a copy of which was provided to The Coast, Hauxwell claims Singh cancelled a cheque for $640 and then claimed she should have been paid at $10.85 per hour instead of the $12.85 she had been earning for months as a team leader.
Labour Standards found "the evidence is clear" Hauxwell was promoted shortly after she started working in June and her pay rate increased accordingly.
The decision also says Singh blamed the original payments not clearing on either "a banking error, added markings to the cheque by the complainant or because he cancelled the cheque."
During the board's investigation, the business owner agreed to pay the larger $1,013 bounced cheque out of money held in trust by Labour Standards. He also said the remaining $670 cheque was paid through an e-transfer.
Hauxwell denies ever receiving it, and Singh didn't submit any banking documents to support his claim the payment was ever made.
"No further evidence was received to confirm the e-transfer despite repeated requests for such evidence over a four-month period," reads the decision.
On the "balance of probabilities," Labour Standards ruled Hauxwell hadn't been repaid and ordered the funds released.
The board also used what sparse pay records were available to reasonably determine Smiling Goat owed Hauxwell nearly $300 in gross vacation pay.
Meanwhile. other employees are starting to see some of the money they're rightfully owed—but not all of it.
Just Us! employee and union organizer Charlie Huntley
writes for RankandFile
that since coming forward publicly last week, some workers have received portions of their unpaid wages, but none have been paid in full.
"We are extremely fed up. Working for
close-to-minimum
wage, few of us have any savings and the bills are piling up," Huntley writes. "We will keep organizing until everyone is paid and our other demands are met. The lesson for us is when you take the fight to your employer you can win."
Current and former Smiling Goat employees joined with other labour activists outside the Spring Garden Just Us! cafe on Saturday morning to keep up the public pressure against Singh.
Baristas inside the cafe took turns pulling espresso shots and heading out into the cold to stand with their coworkers.
Huntley, activist El Jones, NDP leader Gary Burril and other speakers all addressed the assembled crowd of some 30 supporters as cars driving by honked their support.
At one point, a stereo played Rihanna's "Bitch Better Have My Money."
"He didn't know what he was getting himself into when he bought this cafe," one barista told a customer.
Singh and his family were on vacation in Florida last week while their workers ignited the current rebellion.
In
statements emailed to The Coast
, Singh questioned the credibility of ex-staff members who are accusing him of unfair practices and blamed any bounced cheques on a "logistical issue."