Helen Timbo, 21
Dalhousie University, third-year, statistics and chemistry
Originally from Sierra Leone, Timbo's lived in Halifax for eight years and is the current president of the Dalhousie African Student Association. Her first taste of Halifax was when she arrived in the winter of 2008.

"When the cold hit me, I screamed and didn't want to go beyond the door," Timbo says "I couldn't speak English so I started saying 'No' in my language. When I got home, I put on three jean trousers because it was so cold."

When Timbo isn't riding her bike, Sadidiatu, she goes dancing with her friends. One activity she's been meaning to try is marching in the Halifax Pride parade; she hopes to join them next year.

"I like the fact that everyone has freedom to do their own thing. You can be whoever you want to be, and you can choose who you want to be with."
Aziz Al-Qahtani,
20
Dalhousie University, first-year, engineering

Al-Qahtani (pictured with his visiting sister) fell in love with Halifax when he moved from his home country Kuwait a year ago and enjoys exploring the city with his friends. If he could change one thing about Halifax, he says it would be the rate of homelessness. "When you walk around the city you find a lot of homeless people on every corner," says Al-Qahtani. "They need help, especially the elderly, they need extra assistance. We can't just leave them in the streets. The younger folks can kind of take care of themselves."
Kelly Li,
24
Saint Mary's University, third-year, finance

Li moved from China to Halifax over two years ago and says she loves how peaceful the city is. She enjoys exploring the city with her friends and says she wouldn't change much about Halifax.
However, what Li doesn't like about the city are the closing times. "The stores here close too early," she says. "In China, the stores close at around
11pm
, but most of them are open 24 hours."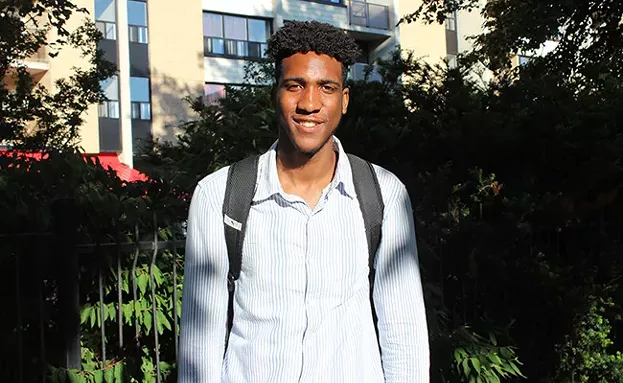 Garry Russell,
21
Saint Mary's Universty, third-year, commerce

Russell moved to Halifax from the Bahamas two years ago and says the city is much bigger than what he's used to. One of the first things he did in Halifax was get lost.
"My dad and I were walking around and we didn't know where we were," he says. "We found a nice restaurant and decided to have a steak and fries there."
Russell says he usually goes downtown to his favourite street,
Argyle,
when he wants to have some fun. One thing he would like to change about Halifax, though, is public transportation.
"The biggest problem I have is with the buses," he says. "It's a good system, but some buses are unreliable. It really effects my day to day life, going to work, going to school, and trying not to be late. They can try to add more buses or try to fix the system so that things can run smoothly on time, every time."
Tadiwa Mugwindiri,
21
Saint Mary's University, third-year, commerce and accounting

Mugwindiri moved from Zimbabwe to Halifax in 2015 because it was warmer than other cities in Canada. He says what he loves most about the city are the people and the water. This summer alone, Mugwindiri has been to the beach nine times with his friends.
"We go tubing, jet-skiing and generally just love being around the water," he says. "We have the Atlantic Ocean around us, so we go at least once a month every summer. I wouldn't change a thing—I feel at home here."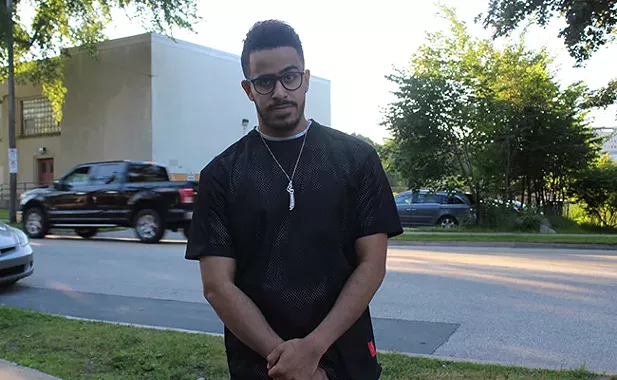 Abdulaziz Altoti, 23

Dalhousie University, second-year, engineering

Altoti moved from his home country, Saudi Arabia, to Halifax in 2011 and says he immediately felt at home.
"Everyone is friendly," he says. "Everybody here will help you and motivate you to do what you love. They believe nobody is different."
Altoti loves riding his bike, and has been meaning to try skydiving but isn't sure where to do so in Halifax. One thing he doesn't like about Halifax is seeing people drunk.
"God gave us a mind, and I don't believe in spoiling it in that way. Doing that stuff could make you do something that you would regret in the future," he says. "Well, I cannot judge them."
Bridget Kang,
24
Dalhousie University, graduating from psychology and statistics

Kang moved from China to Halifax because she loves the ocean, and would love to stay after she graduates. Despite the limited choices at the Halifax Shopping Centre, Kang says she loves the small size of the city.
"It's not as big as I imagined but it's really sweet," she says. "Halifax is my second hometown outside China. The people are friendly and it's easy to make friends."
Sitong Chem, 23

Dalhousie University, completing his Master's degree in computer science

The first thing Chem did in Halifax
was help
his friend move houses when he arrived in the summer of 2015. What he likes least about Halifax is the unpredictable weather.
"In the afternoon, it's 20 degrees, but in the morning and evening it gets very low. It's very inconvenient."
Chem says he likes Halifax the way it
is,
but doesn't plan on staying after his degree.
"Maybe I'll go to Toronto," he says. "I prefer big cities because they have more things to do."
Sabbir Khan, 23

Saint Mary's University, fourth-year, computer science

Khan describes himself as a
homebody,
and occasionally goes to bars with his friends. After transferring to Halifax from North South University in his home country, Bangladesh, two-and-a-half years ago, Khan says the first thing he noticed about the city was the quietness.
"Where I come from, nobody sleeps," he says. "
There're
always people around being busy. It's sometimes really depressing because it's so quiet, but I'm getting used to it."