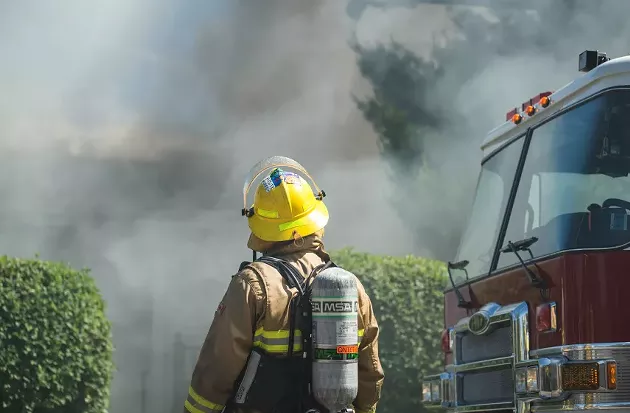 A staff report headed to Regional Council recommends lowering the targets for the city's emergency response times, because the current time targets are rarely met.
Halifax firefighters in urban areas are expected to respond to structural fires within seven minutes, 90 percent of the time. For rural firefighters, that target is 12 minutes. Volunteer firefighters in rural areas have 17.
Now,
city staff are proposing
an extra 30 seconds be added for dispatch times. Rural and urban firefighters would also get an additional 30 seconds for turnout—the time it takes to get on the road.
The recommendation comes out of
data collected by Pomax Consulting
. Looking at the past two years of operations, Pomax found that Halifax Regional Fire and Emergency missed virtually every dispatch, turnout and response time target set by the municipality.
According to the consultant, the 60-second window for dispatch in HRM was met only half the time over the past two years. A substantial part of the blame, says Pomax, is the triple role HRM dispatchers have to play responding to police, fire and 911 calls.
"No matter how conscientious call takers and dispatchers are, it is very difficult to change roles 'on the fly' between being a 911 call taker, fire call taker and police call taker, plus remember to capture all the time markers," reads the report.
In the urban core, the 60-second targets for both dispatch and turnout times more often take two and three minutes, respectively. The expected eight-minute response time for multiple units to a structural fire, meanwhile, comes in closer to 10.
Rural and suburban firefighters fare even worse. Those first responders only made their 60-second turnout window around 10 percent of the time. Volunteer firefighters were only able to meet their six-minute target for turnout times on 69 percent of calls.
Halifax Fire and Emergency is "unable to achieve an effective firefighting force" according to the city's own standards, the report concludes.
"We anticipate the only way to achieve the 2006 standards for multiple unit response is via new stations and new staff for those stations in order to reduce travel time," Pomax writes. "Adding stations may cause excessive response area overlap with existing stations, meaning that some existing stations may have to be relocated because of redundancy."
The municipality has undertaken a hiring process to try to better meet those targets, but as the consultant's report notes, "the balance of hiring is for the purpose of offsetting overtime."
The city awarded the $86,000 contract to Pomax—the only bidder—two years ago, amid heated debate about HRFE staffing levels and the reorganization of HRM's fire stations.
Fire department brass previously delivered an
operational review
to council back in 2014 recommending several stations be decommissioned and others staffed by volunteers.
The proposal was not well received. Residents and even a couple of councillors denounced now-retired fire chief Doug Trussler and begged council to go against the advice of its experts. Trussler was
hauled before council several times
over the next two years, always repeating his belief that the reorganization wouldn't impact service.
But council
went another direction
, instead choosing to keep the stations largely as they were and throw money at the problem by hiring a few million dollars worth of new firefighters.
Of course, that consolidation of fire staff and stations was largely designed so that HRFE could better meet HRM's response times. Having rejected more efficient service,
some councillors were worried
staff would recommend the only other option—slowing down response time targets. And that's exactly what happened.
Staff suggest the implementation of the new response times should happen, bit by bit, over the next three years. Year one would have a benchmark of 120 seconds for turnout; year two would be 105 seconds; and year three, 90 seconds.
The report, which also recommends new fire resources for the Halifax airport and switching Fall River's fire station to 24-hour service, comes to council on Tuesday.