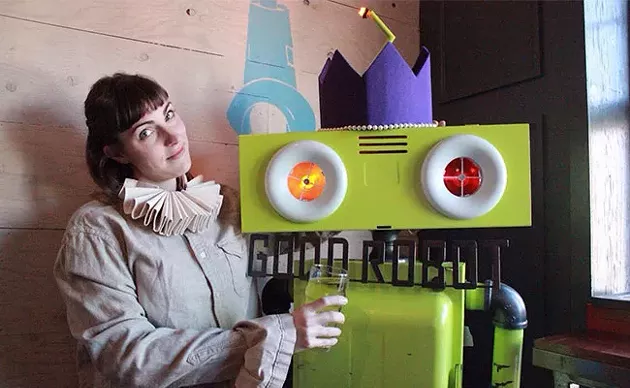 Romeo & Juliet: a drink-along
February 12, 8pm (Feb 10, 11 and 13 sold out)
Good Robot Brewing Company
2736 Robie Street, $7-$17
tickethalifax.com
How many clowns can you fit in a bar? The Tea Time Creation Co. is going to find out this weekend at Good Robot. The troupe of four performers—James MacLean, Gina Thornhill, Katie Dorian and Ailsa Galbreath—are taking Shakespeare's Romeo and Juliet off the stage and bringing it to the taproom.
"It's a social and immersive Romeo and Juliet," says MacLean, who plays Romeo for the nearly sold-out run. "It's closer to Shakespeare's time, when the audience would have been drinking along. Audiences are also less restricted and are free to move around."
Because of the Nova Scotia Liquor Control Act, the group is clear to state the show is not a drinking game, and they will not be drunk. They will, however, be drinking throughout the performance, with the audience is encouraged to do the same.
Tea Time's previous work includes clowning and devised creations, having also used Good Robot during last summer's Fringe Festival with its wonderfully charming show First Date Last Date, about the pitfalls of love and romance. This latest foray keeps focus on similarly pithy themes, but imbues them with a healthy dose of boozy fun.
"I think a lot of people have an unfortunate beginning with Shakespeare where it is forced upon them in schools," says Thornhill, who plays Juliet. "But that's not where it was intended to be seen."
Shakespeare's original text has been adapted and reimagined, but the group is quick to acknowledge the changes are only to serve the story of the two star-crossed lovers. "It's not about taking Shakespeare down or building it up," says Dorian. "It's about cracking it open."
"Basically," says MacLean, "we're just four clowns putting on Shakespeare in a bar."