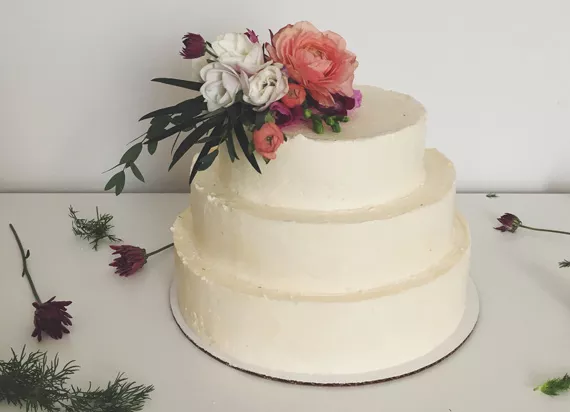 When it comes to cake, it's what's on the inside that really counts. All the fondant flowers in the world can't cover up a flavour or lack thereof. This might be why we're seeing more bakeries, brides and grooms take the less-is-more approach, and more cakes showing up to the party underdressed. The relaxed look is hot right now, and we couldn't be more into it.
"There's no question that there's a shift towards cake displays that are pared down and effortlessly chic," says Crystal Ross, baker at small scale sweet-maker Gateaux Rose. She says the minimalist look is definitely on-trend, citing artful Utah cake maker Tess Comrie's work as a shining example. "I'm spotting lots of cakes that are stripped from their heavy fondant ornamentation, down to their barest essentials—lightly textured buttercream with carefully placed natural elements like florals, greens, rustic fruits and berries."
While Ross is adamant that having the cake that you want is more important than any trend—over-the-top toppers included—at the end of the day, it's all about whether it actually tastes good. She says experimenting with pastel and watercolour cakes is a way to have fun while keeping the cake simple, and that naked cakes—unfrosted, or partially unfrosted cakes that give a hint at what's inside—are still a pretty big deal.
"They're great because they highlight the fact that a cake is both beautiful and delicious," says Ross. "Sometimes a cake's delicious appeal can get lost amongst fussy details."