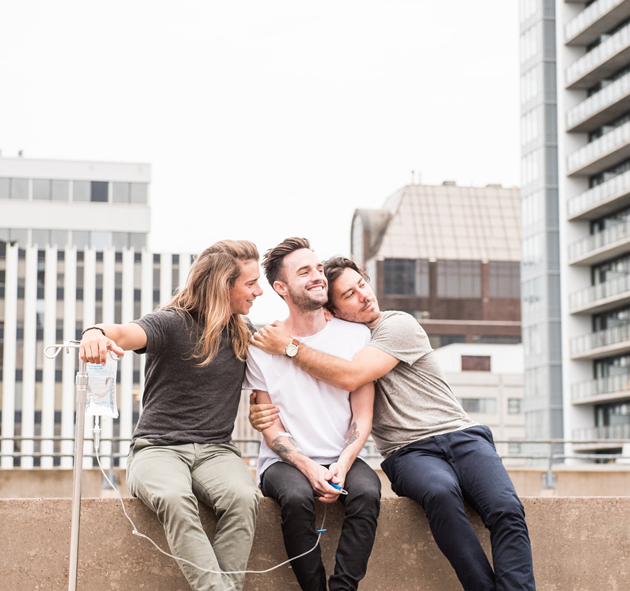 "The whole idea came from a running joke on the podcast that I had wasted my Children's Wish," says
Jeremie Saunders
.
In 2002, when Saunders was given the opportunity to make
one wish
, he chose a shopping spree. Many teens would do the same. Now he deeply regrets the decision, and that remorse has motivated him to start the
Sickboy Wish Fund
.
Saunders has Cystic Fibrosis. His illness and the stigmas around living with an illness inspired him to start the popular
Sickboy
podcast along with his friends
Taylor Macgillivary
and
Brian Stever
. It features people with all different forms of illness, from mental to
terminal
, openly discussing life.
Sixteen years have passed since the loathsome Halifax Shopping Centre spree and for his 30th birthday, Saunders wants to help one lucky adult to make a wish of their own.
Since we all make bad decisions when we're young, the winner will get to make one well-devised wish. "Carte blanche," says Saunders, as long as you're a "sicko", have never had a Children's Wish and are 19 years or older.
You can nominate yourself or someone else by filling out an application or making a video.
"To raise the funds for this wish we are throwing a huge fundraiser called
SickWish Gala
. The theme of this party is Bucket List," says Saunders. With the help of VR, "people can fulfil bucket list goals, like a fly in space or swim to the bottom of the ocean."
The gala will be held at the Museum of Natural History on January 13, partnering with its new and timely
Bodyworlds
exhibit.
Applications will be closing in the early new year, you can find the form
here
.
Oh, and no shopping sprees allowed for wishes.
💥🔥 BIG ANNOUNCEMENT 🔥💥 introducing the SickBoy Wish Fund. For details/to nominate or apply visit https://t.co/jHstcdxIar #makeasickwish pic.twitter.com/wbfI0CAg24

— Sickboy Podcast (@sickboypodcast) December 13, 2017