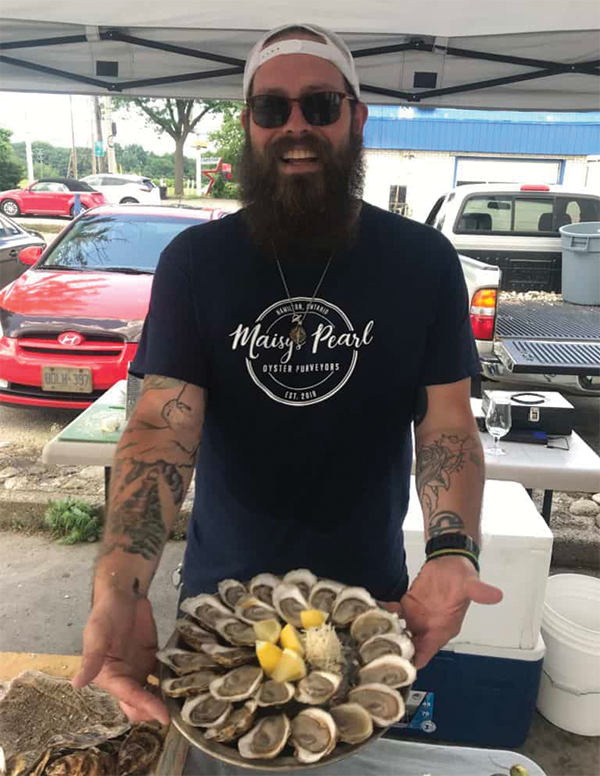 Halifax Oyster Festival
Fri Oct 4, Sat Oct 5
1521 Lower Water Street
oysterfest.ca
---
D avid Burns is the founder of Maisy's Pearl, an oyster-focussed catering company in Hamilton, Ontario that focuses on education as much as consumption at its pop-ups, parties and private events. (And, cutely enough, is named after his two daughters, Maisy and Pearl.) This year he's bringing his bivalve know-how and shucking skills to Halifax Oyster Festival for the first time. So, naturally, we had some questions.
Do you remember your first oyster?
"I was 15 and out for dinner with a good friend and his family. His dad was like, 'You've gotta try these.' I was like, 'How do I do it?' and he was like 'throw a bunch of Tabasco on! Down the hatch!' I didn't chew it, just swallowed it. It was clearly just a vessel for sauce, I didn't think too much about it. Then, I started working at Rodney's Oyster House around 2011 or 2010—I've always loved seafood and had an appreciation for seafood. I met some really cool people there and they were like 'Have you ever had oysters?' They opened it properly, it was pristine, and said: 'Add a couple of drops of lemon to cut the salinity, chew a few times and swallow.' And it was unreal.
It's funny, I moved to Hamilton and there's nothing really going on in the city. My wife was like, 'start a catering business, educate the people on how they're supposed to be perfectly shucked, how they're supposed to be consumed.' And I did. People have been really receptive. Now I'm educating people from my first experience to my first real experience."
What was it that made you want to bring oyster culture to Hamilton?
"This city is very communal, they're very hard working. The nickname for the city is Steel Town, and these people will not spend their money on anything unless they see value in it. Before moving here, I went to different bars and restaurants and tried to sort of what I would do for a job. I'm going to these places and ordering oysters and I thought, this is just a way for restaurants to boost up their cheques, or bills. There's no real experience involved. I think enjoying oysters is all about experience and its a very social thing. And not that they're bad restaurants, they just didn't know what they were doing.
I'm very good at what I do when it comes to opening an oyster and educating people about it. So I was like, 'I'm going to bring that to this amazing city. Quality product the way it's meant to be.' "
Why is proper shucking important?
"You think about the person on the other end who's put the hard work, time and effort in to making sure this product is alive and well when it gets to us, and then to have someone massacre it? It's almost an insult. I always try to make people aware these people are working hard, that it takes a lot of time for an oyster to get to your table. I'm the last guy to touch the product, so I want it to be perfect."
What's your advice for someone trying an oyster for the first time?
"It's my favourite thing to do. My go-to is: 'Listen, if you've haven't had an oyster, today's your lucky day, and you're going to experience an oyster the way it's meant to be.' And then I show them the gills, the mantle, the belly, the adductor, how it's all been severed properly, the way it's supposed to be. As opposed to if you're drunk at a restaurant with your buddies, feeling daring on a big bold red wine. It's smooth and crisp and exotic and it has a nice mouthfeel, when it's been opened properly.
Interview has been edited for length and clarity.