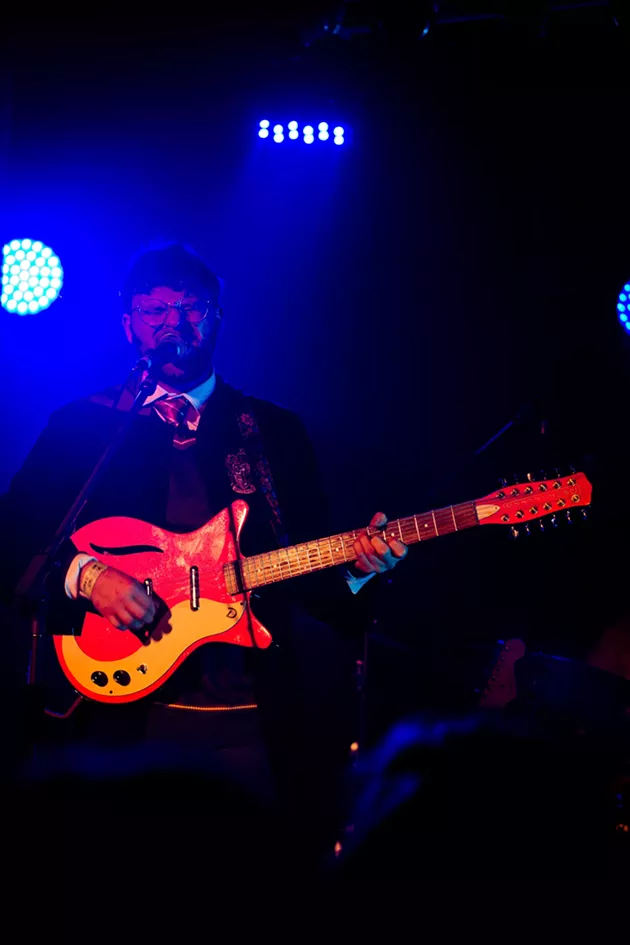 T
he last night of Halifax Pop Explosion did not disappoint at the Marquee. Garage bands from as far as New York to as close as Dartmouth came together for one last explosive show on Saturday, October 26th.
First on the docket? Diamondtown. Looking very comfortable on their home stage, the bandmates pulled the crowd in with surfy, '80s psych songs off the new album
Life Goes On
, which was released last year.
Next up was Toronto's queen of garage, Luna Li. Her four-piece band had a
Stranger Things
feel with their glitter-clad faces and '80s trance back beats. The distorted guitar looped in with violin lulled the crowd into a dreamlike state. Fans swayed from side to side as if they lost all control of their bodies and were lead by Li's hushed yet powerful voice.
Bringing it home once more, Nova Scotia's own indie rockers Walrus sauntered onto the stage. It was a big night for Walrus as the set doubled as an album release for the Oasis-but-sunnier LP
Cool to Who
. The four BFFs celebrated their album release in style—and in Halloween costumes. Front person Justin Murphy was cracking dad jokes throughout the set and said "I told everyone to wear costumes tonight but apparently no one get the memo" he then turned to his band to see a chicken on the drums, an ice-cream cone on bass and a prisoner on guitar. Murphy himself was dressed like a Harry Potter and put a spell on everyone.
After playing through the hypnotically psychedelic album, the set ended with some Sheryl Crow and covered "If It Makes You Happy".
Diet Cig was responsible for closing out the festival and they certainly ended it on a high note. This pop-punk duo from New Paltz, New York is comprised of Alex Luciano on guitar/vocals and Noah Bowman on drums. Luciano bounded on stage with energy and smashed out a couple of their hits. After getting the show off to a powerful start, it soon slipped into a very repetitive rhythm of the same few chords over and over again. Bowman has been playing music since he was 13 and is a very talented drummer, but Luciano has only been playing for the last five years and frankly, it showed with her limited guitar range. After following the act of Walrus, this set fell a little flat. What she lacks in guitar, though, Luciano makes up for in her showmanship: She knows how to get the crowd going and get people dancing.
With a mix of hometown heroes and new talent, the last night of the Halifax Pop Explosion at The Marquee gave fans a taste of different flavours of garage and pop-punk in North America. As fans spilled out onto Gottingen street they excitedly murmured about counting down to next year's festival, only 365 days to go.