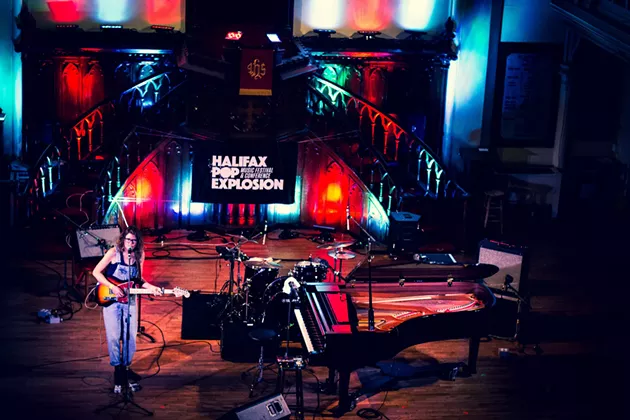 T
here is nothing more healing than listening to the beautiful musical stylings of Charlotte Cornfield and Spencer Krug.
At the pair's Halifax Pop Explosion set on Oct 26, Cornfield played a short but sweet set. Standing on a beautifully lit stage, she wore the same overalls she is wearing on the cover of her newest album,
The Shape of Your Name
. With only 30 minutes on the clock, she paced herself well with a good mix of songs from her new album and older tracks. Hailing from Toronto, Cornfield has a warm comfort to her playing that makes you feel like you are at home even if you are far from it. The audience in the church was dispersed between the balcony and the nave (that's right, you just learned some church terminology—impress your Grandma at Christmas with that one). Every audience member sat transfixed, not a single phone was out and no one spoke, as Cornfield played. She ended her set with "Silver Civic," the lyrics of which are relatable to pretty much anyone who has tried to forget about an ex, only to see reminders of them everywhere they go.
Not having the usual distraction of going to get a beer in between acts, the crowd sat in the pews and patiently waited for Spencer Krug to grace the stage.
Krug poured himself over the piano and his hands melted into the keys. There were moments when he retrieves his hand from the keys as if the ivories have scorched his fingers. His own playing is so emotional it looked to be causing him harm, but it is doing the exact opposite. The deep growl of Krug's voice has a hauntingly beautiful tone against the complexities of the piano.
Shrouded in the beauty of the stained glass of Saint Matthew's United Church, the grand piano not only looked ethereal but sounded enchanting with the church acoustics. This show was a rare moment in time that could never be created: A moment in time where a pianist from British Columbia and singer/songwriter from Ontario were together under the most holy roofs to enchant a room full of Haligonians.