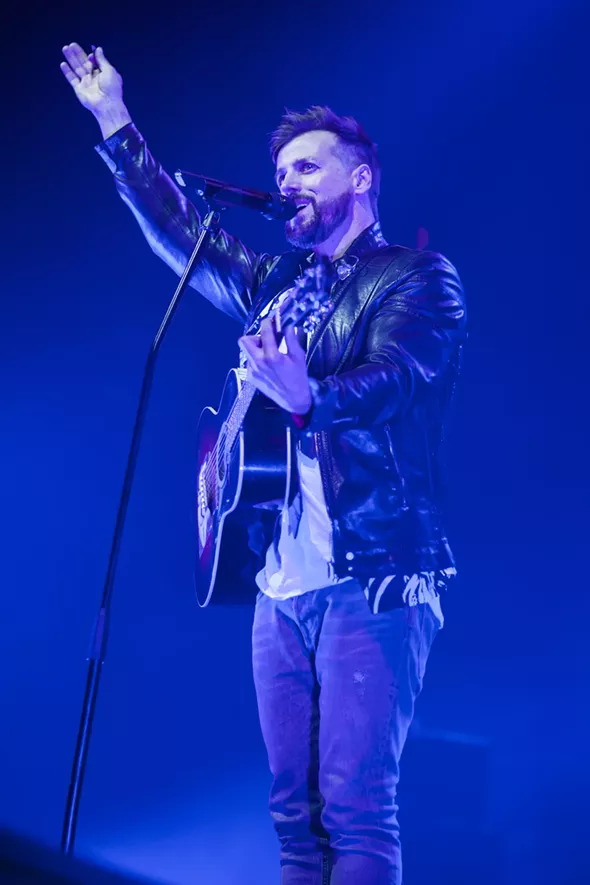 Nostalgia reigned supreme in the most satisfying way at the Scotiabank Centre last night, as late 90s/00s CanCon stalwarts—and one-time public snipers—Matthew Good and Our Lady Peace held a full and enthusiastic crowd close for a combined two-and-a-half hours.

A jovial Good, last seen in Halifax singing on his back from the bar of the Marquee, mixed in tracks from last year's Something Like a Storm with hits from across his career, throwing in "Load Me Up" second and mis-singing a verse ("I fucked it up!" he yelled, shortly before singing the line "It seems so practiced, me fucking this up"). Slow jams like "Strange Days" and especially—always—"Apparitions" hit hardest, and the band closed out with Beautiful Midnight's lead track "Giant," traditionally the opening encore song.


It was Our Lady Peace who got the encore on this night, chugging through 90 minutes of an equally hit-laden back catalogue (the band was selling a selling a metal tin emblazoned with "On tour since 1994"), dropping in a handful of cuts from last year's Somethingness. Frontperson Raine Maida has aged gracefully and outfitted himself accordingly, in gray jeans and a leather jacket and a stylish but not ridiculous haircut. Singing "Superman's Dead" for the millionth time has surely lost its luster but you'd never know it from Maida's demeanour, which appeared sincerely grateful and pleased. The band took some interesting risks, like moving from "Is Anybody Home?" into the Yeah Yeah Yeahs' "Maps"—the crowd did not appreciate that one properly—and taking it down to three acoustic guitars and a cajon for "In Repair" and "Somewhere Out There."

For the encore, Maida introduced Somethingness' "Ballad of a Poet" with a story about how seeing The Tragically Hip perform two songs changed his life as a teenager—"Light this place up for Gord," he implored—then invited the Good band back out to perform a hit the man himself skipped; a 1999 teen's fan fiction then came to life watching Raine Maida sing the verses and Matthew Good sing the choruses on "Hello Time Bomb." OLP ended the show on its oldest hit, "Starseed."

Brantford outfit Ascot Royals—a radio-friendly rock band with energy to spare—had the unenviable task of opening to a smattering of fans, with full lights up, but played as if it were its own sold-out crowd.


Matthew Good set
1. Bad Guys Win
2. Load Me Up
3. Decades
4. Men at the Door
5. Strange Days
6. Something Like a Storm
7. Born Losers
8. Weapon
9. Apparitions
10. The Future is X-Rated
11. Giant
Our Lady Peace set
1. Drop Me in the Water
2. Superman's Dead
3. Innocent
4. Is Anybody Home?
5. Maps
6. Angels Losing Sleep
7. In Repair
8. Somewhere Out There
9. One Man Army
10. Not Enough
11. Nice to Meet You
12. Clumsy
13. 4am
Encore
Ballad of a Poet
Hello Time Bomb
Starseed