So my date and I checked out the Atlantic Short III tonight. Handy program, it was. All the people we knew with films (or who worked on films) in the Fest were all corralled into one program. Way to go, guys! You made a movie.
What to say about these films? I kept turning over an observation Roger Ebert made in his initial review of the Coen Brothers' Blood Simple: "Blood Simple was directed by Joel Coen, produced by his brother, Ethan, and written by the two of them. It's their first film, and has the high energy and intensity we associate with young filmmakers who are determined to make an impression." I sought anything in the shorts tonight, it's that they make an impression, and leave a few things in my brain to turn over for the remainder of the Festival. (After the Festival, I get my head back to stuff with Hollywood schlock, Oprah Book Club picks (Franzen! Freedom!) and Jersey Shore.)
The first thing I did before placing my fingers on the keyboard was to review the list of shorts in the program. It was like an upstream salmon jump, with the audacious ones, the eager beavers and the coolly confidant pouncing onwards and upwards, and the rest being left behind.
That being said, all films boasted a professional execution and a distinctive style. Some films benefited from their charm, their surprises and their off-kilter premises. Some were steeped in familiar emotions while some played to our obvious sympathies and our assumptions beneath them. Some films were good, while others were great, but to say that some films were merely good is not to make a defeatist statement. Some filmmakers tonight are at the base of the mountain, while others are ascending towards the summit of their art.
I'm going to be turning over some of the films camped in my brain over the next day or so. Check back in case I'm able to post something!
My date and I checked out the Best Movie Never exhibit at Argyle Fine Art, a collection of fake-ass movie posters, for fake-ass movies, produced by real-ass local artists. The photographic evidence follows: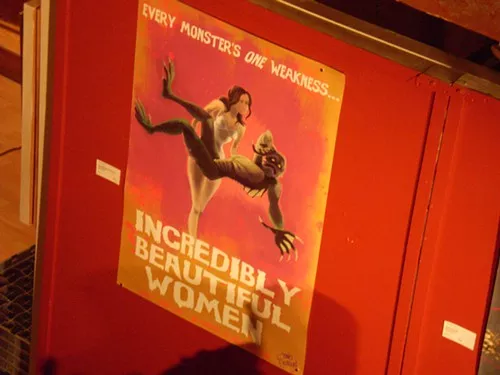 ... also small animals. Piece by Jono Doiron.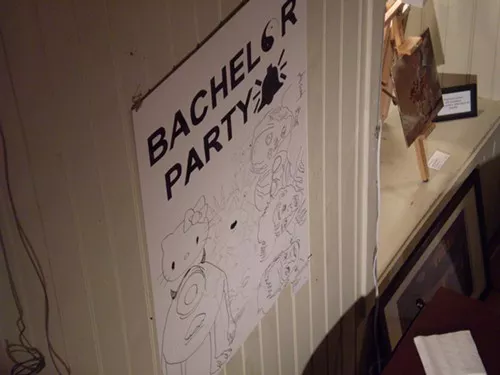 I think the artist is trying to tell us that the Phantom of the Opera, Frankenstein, Monsters Inc., and that big, hands-for-eyes dick from Pan's Labyrinth are unmarriable... or perhaps Hello Kitty is making the scene to tame their wicked ways. In that case, this movie already happened; it's Six Hideous Imps and a Little Lady. Piece by Jarred Betts.
I want this one (by Siobhan Gallagher.)
If only... and that season as Curb does not disqualify this!